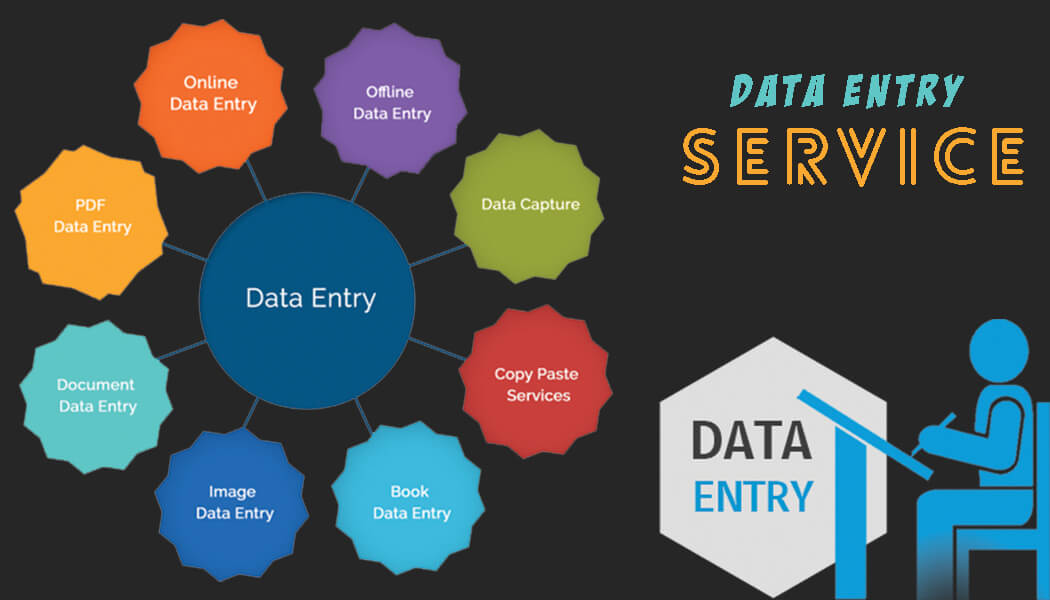 The significance of data entry services is increasing rapidly worldwide. Document digitization and data generation are responsible for generating large amounts of data across all sectors. It can be tedious for the owners to handle colossal data reliably and accurately, with the quality needed to make essential business decisions.
Therefore, an effective way to handle data entry services is to contract with a trusted third party. In this technologically advanced world, companies are constantly growing, expanding their businesses, and incorporating new schemes to stay updated- This will only happen if companies manage their data entry functions carefully.
Importance and requirement of effective data entry services
Whether your enterprise is big or small, data entry tasks must be managed while providing necessary data analysis. As your business grows, data management becomes more complicated and complex.
Successful companies are known to outsource data entry tasks rather than assigning resources to process data- This allows these companies to focus on their core areas. An experienced data entry services company helps clients improve their enterprise processes and generate more profits in the prolonged run.
Tips for Finding the Right Data Entry Services Outsourcing Company
Choosing the right data entry services company is difficult because the process is tedious. In addition, the third-party service company shares basic information and essential data. Therefore, companies should follow specific prerequisites while choosing the right data entry company. This blog discusses some considerations to help you choose the best outsourcing company to run your data entry services.
Customized services
Data, personalization is an important aspect you need to consider when outsourcing data entry services. The company's data needs vary by nature, size, and type of business. Therefore, a data entry outsourcing firm should provide clients with data customization to achieve the desired outcomes.
Cost-effectiveness
Cost efficiency is essential when companies outsource business processes like data entry, customer service, etc. Organizations prefer to outsource their functions instead of employing in-house groups because of the experience and price available in outsourcing firms. Before you start choosing an outsourcing business for your data entry project, create a budget.
skills and experience
Every data entry services outsourcing company has its expertise. There are several data entry service providers in the market. You should choose the right company according to your needs. Among the many data entry services, you must select a company that meets your business needs within a specific budget. Customer reviews of service providers are essential to get an idea of ​​the reputation of the company and the range of services it offers.
Powerful technology
Technology plays an essential role in every aspect of the industry. Always check the latest features and technologies used by third-party companies. Logistics companies must implement a robust technological infrastructure to provide flawless service to their customers. Data entry is necessary because it contains confidential information and essential data that should be retrieved upon request.
Time
Signing up for an outsourcing company is a great idea to speed up your day-to-day business. However, the processing time is essential to provide timely service. While considering hiring external resources for data entry services, choose a company known for attractive turnaround times. Finally, work is distributed evenly across departments, making it more manageable.
Adaptability and flexibility
Businesses like external partners must be flexible and adapt to the latest changes. Partner flexibility of outsourcing data entry services should include workflow, quality, and timeliness.
Useful communication
When agreeing with another organization, effective communication plays a vital role in the success of this agreement. The same goes for outsourcing partners of data entry services. You should communicate your goals and issues immediately. The quality of data entry services from outsourcing partners largely depends on how you express your needs and expectations. However, you should monitor whether the outsourcing staff is giving you regular updates on the project's progress.
Business Credibility
The value of each data entry outsourcing firm depends on its business model and specialization. We recommend choosing an enterprise whose business type corresponds to your service requirements. The best method to validate this is to ask about their business credentials and certifications. Find their online activity, professional services, customer listings, business reviews, references, and more. You can then choose the company that best suits your business needs.
Specimens of Certificates
When outsourcing any business, it is crucial to monitor the performance of the outsourcing company. Service samples and certifications indicate the quality of services the outsourcing company provides. You can visit their website or directly ask about their approval. Look carefully at the testimonials to understand the nature of the company's business. If you can't find work samples or testimonials, you can constantly check the list of clients and order the services they received from that particular outsourcing company.
Competitor analysis
Finding the correct data entry outsourcing company is impossible without researching competitors' prices, services, terms, and conditions. Before you start researching your competitors, you need to document the services you need, the associated budget, and other essential information you need to discuss with your outsourcing provider. Budget plays an important role, so while looking for the best-outsourced data entry service, it is necessary to check the market prices of your competitors.
Last thoughts
Choosing the best partner to serve your company can be tedious and time-consuming, depending on the business needs. An effective outsourcing contract will assist your business in growing and operating more efficiently. However, follow the tips discussed above to find the best outsourcing agency for your data entry services. You can discover the proper service provider, such as a perfect data entry.