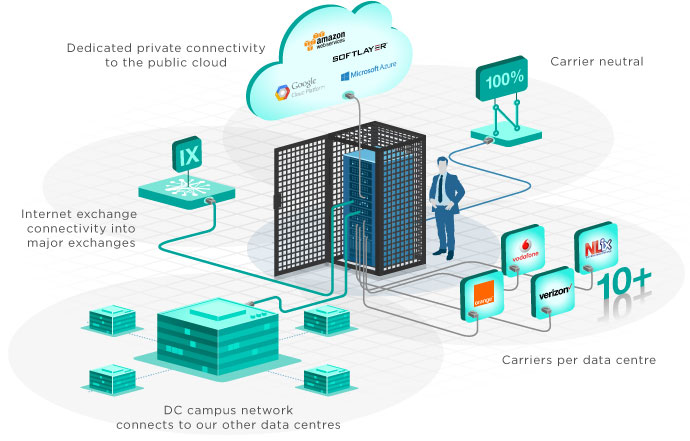 Data consumption in India is increasing exponentially every year. With more than 500 million internet users, India is one of the largest internet markets in the world, overtaking even the most developed economies in terms of data growth. Moreover, according to an estimation, the number of data consumers in the country may cross over 600 million by 2023. As the Indian data economy advances, it aggravates the need for data centre services for efficient storage, management, and dissemination of solutions for businesses and enterprises.
Despite the apparent demand for data centre services, a section of the enterprise users still holds misconceptions around colocation services. As a result, 70% of the organizations are channelling hefty capital towards in-house server rooms and data centre. This article will discuss how colocation data centre services are paving the way for the new hybrid enterprises and why they are beyond a rented environment.
The Importance of Colocation Data Centre Services
In today's world, where emails, webpages, and digital devices have become a crucial part of life, big businesses rely on colocation data centre services. A colocation data centre offers the space to store IT infrastructures, such as servers, routers, and other networking equipment. Colocation services entail an IT strategy, which suits businesses of all sizes.
Unlike common perceptions among specific enterprise users, colocation data centres offer an environmentthat is beyond a rented space. Today, the colocation environment for data centre services is a highly specialized and advanced ecosystem equipped with state-of-the-art components such as:
Air &Water-Cooled Chillers
Computer Room Air Conditioning (CRAC) Machines
Precision Air Handling Units (PAHU)
Chemical Filters
Treated Fresh Air Units (TFA)
High-tension &Low-tension Electrical Panels
Power Distribution Units (PDU)
Change-Over Panels
Transformers
Switchgear for Power
How are Colocation Data Centre Services Paving the Way for New Hybrid Enterprises?
A colocation environment offers versatility and adaptability, permitting you to increase or decrease ramp capacity, space, and power requirements at pre-determined intervals. Moreover, from a connectivity standpoint, the colocation environment is carrier-neutral, giving you the freedom to opt for services from any internet service supplier of your choice.
However, for a new hybrid enterprise, power is one of the most significant cost elements. In such cases, a colocation environment can lower the overall cost as they are more productive with better Power Utilization Effectiveness (PUE) than captive server rooms.
While the biggest misconception enterprises commonly have about colocation services is security, the reality is that administrator-facilitated data centre's are more secure and safer than captive set-ups. Additionally, they permit enterprises to hold the unlimited authority of their information. A typical analogy that strikes a chord is that of cash in the bank or home – Just like your money is more secure in the bank than under your bed, your information and servers are in safe hands in a data centre colocation environment than in captive server rooms.
Colocation data centre services curtail the capital outlay as it allows enterprises to avail all the advantages, including scalability, reliability, sustainability, serviceability, and mission-critical SLAs, by enabling:
Flexibility in deployment
Superior integrity of data
Complete retention of control through physical isolation
Administrative management of servers, networks, and applications
The Way Forward
Choosing the right colocation data centre services is critical to establish a favorable data centre environment. Besides gauging the operations and delivery history, you must consider and check the credentials, record on-time deliveries, operation uptime, expansion plans, connectivity options, industry &customer endorsements, financial strength and stability of the provider, current installed capacity, locations, and transparency practices.
STT GDC India is India's largest data centre service provider, leading every datacentre market trend with 21 promising data centres spread across 3.8 million sq. ft. of land. With the largest raised floor area in the country, you can get a reliable digital space for all your IT infrastructure. Moreover, their onsite experts keep assuring the smooth and efficient functioning of your hardware, so check out their website today