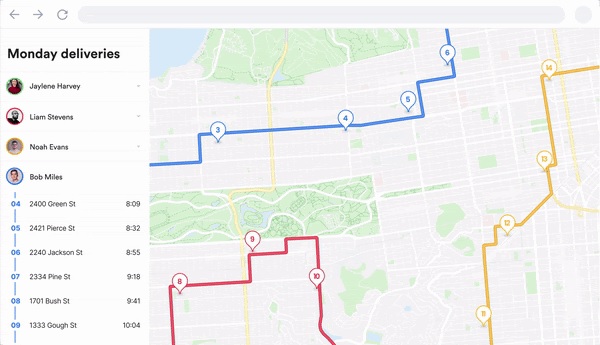 The more optimized your delivery route is, the more efficient it will be. This means that drivers will spend less time on the road, and your overall operation will be more cost-effective. Therefore, regardless of the number of stops you need to make along your route, the best way to calculate your delivery trip is to use a route optimisation software.
However, there are a lot of route planner options out there. So, how do you know which one is right for your business? What factors should you consider when shopping around?
In this article, we're going to review several route planner apps and programs to help you with your decision-making process.
What is a Route Planner?
A delivery route planner is a software program that organizes stops for delivery drivers. Additionally, a route planner app might offer features such as real-time route optimization, calculating your drive time, GPS tracking, and drag-and-drop route changes.
With the help of a route planner, companies can operate more efficiently by planning a route that is optimized for time and distance. In other words, these apps let businesses plan their trips, so stops are made in an order appropriate to the goals of the company.
What Features Should Your Route Planner Have?
If your company depends on its deliveries, then it's crucial that you choose the optimal route planner app. Therefore, you will need to choose software that offers you a return on your investment in both time and money. Here are a few key features a good route planner program should have:
Multi-stop route optimization: the app should be able to plan the most efficient trip with multiple stops.
Project travel time: your route planner should be able to estimate your drive time.
Find the shortest route: the software needs to calculate the shortest route, so you don't waste time traveling unnecessary miles.
Offer turn-by-turn navigation: driving directions are a crucial component of an efficient route planner program.
Best Route Planners for Calculating a Delivery Route
Onfleet
An ideal solution for businesses across a variety of industries, Onfleet features individual driver profiles, each with its own beginning and end locations, shift schedules, and vehicle capacity. Once routes have been set, drivers can access the Onfleet app on their mobile dashboard while you oversee their progress from the web dashboard.
RouteXL
Specializing in multi-stop routes, RouteXL uses smart algorithms to sort addresses to find the shortest route between stops. It's also simple to operate. All you have to do is add a departure location and a list of your deliveries, and then the route is calculated for you. You can then email the route to drivers for them to print out.
Maptive
Offering a customized, detailed map, the Maptive multi-stop route planner lets you calculate the ideal route between various locations. You can add up to 25 locations with up to 73 stops, and the program will create the most efficient route. These locations and stops can be easily imported through the Excel upload function. Furthermore, the app shows you distances and predicts travel time between stops and locations. Additionally, your drivers have access to turn-by-turn navigation.
Flightmap
A basic route planning tool, Flightmapgenerates the shortest possible route based on the addresses you input and the optimization settings you select. Furthermore, Flightmap offers a free plan that supports up to 200 stops a month per vehicle for up to two vehicles. Additionally, it integrates with Tookan, a delivery management solution. However, this integration comes at an additional monthly charge.
MapQuest Route Planner
Like other apps on this list, the MapQuest Route Planner lets you input multiple addresses and then optimizes your stops to create the most efficient route possible. It also gives you the option to optimize based on the shortest time or shortest distance traveled. However, what sets this planner apart from the other programs on this list is that you can set your routes as a round trip. This allows you to account for the time it takes your driver to return to your home base.
Route4Me
Route4Me offers a comprehensive list of features, including route optimization, customer communication, route monitoring, and proof of delivery. It supports both single-driver and multi-driver routes. Additionally, you can optimize your routes based on your specific constraints, such as avoiding highways and tolls.