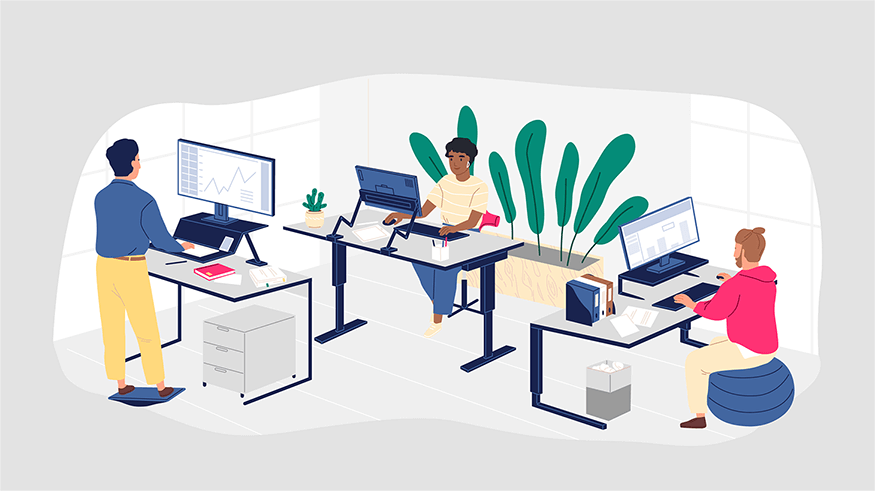 A small office is a good choice if you're starting your own online business. While it might be possible to work in other settings, such as a kitchen table, a cafeteria, a library room, or a physical and virtual shared space, a small office is often the best option.  
If you are a solopreneur and all your work will be done online, then you could set up a home office. But if you're starting your business with one or more employees, then a small commercial space in an office building may be a better decision.
Your office, whether it is based at home or in a commercial property, should be easy to set up and maintain. It doesn't have to be a big space—just large enough for you to feel comfortable and accommodate office furniture, equipment, and stationery.
Later, once your company grows, you can always move to a larger, more aesthetic, better equipped, and more functional space.
Deciding on the Right Layout
The layout of your office will affect the productivity, creativity, and efficiency of your employees. Design it to meet the needs and specific tasks of your workflow. The right layout will depend on the size, function, and organizational needs of your business.
Avoid making these three common mistakes:
Working in limited space.

While a small office may be budget-friendly, it should not be too small. It should be large enough for people to work efficiently and move around freely without bumping into each other.

Cramming too much office furniture in one room.

You need just the right mix of office furniture, a harmonious blend of desks,

desk pods

, chairs, cabinets, and filing bins. Sometimes less is more.

Getting insufficient natural light.

If you don't have enough windows with plenty of

natural light

streaming in, relying only on artificial lights to illuminate the room, this will have an adverse effect on everyone's mood and health. 
Choosing the Best Technology
Here are a few basics you will need to start your business:
Computer:

Buying a laptop

may be preferable to getting a desktop because it will allow you to take your work with you when you leave the office. For instance, it could be useful to have your laptop with you when you are meeting a client at their office.

High-Speed Internet.

Research the best internet service providers in your area. There are many places where you can save on business expenses, but the internet is not one of them. Don't get a cheap vendor with poor service or slow speeds.

Infrastructure:

Depending on your line of work, it might be worth investing in cloud computing services. It will allow you to rent leading-edge software and store your data on central servers that can be accessed from any device anywhere in the world at any time without having to worry about storage space or backups. You can share limited access to specific data with stakeholders like remote workers or vendors.

Printer:

It's best to get a multi-function one that has fax, photocopy and scan capabilities built right in. 

Telephony:

Since you will probably be using a

smartphone for your business

, invest in a high-quality one equipped with the latest technology. It should offer fast processing speed, plenty of storage space, long battery life, and a camera that takes crisp pictures.
Design an Attractive Office Space
Your office space should have some ambiance because you and your team will spend most of your time here. It needs to be comfortable, attractive and conducive to productivity. Besides practical concerns such as office furniture and equipment, give some thought to adding potted plants, wall décor and air purifiers to make the space as beautiful as it is efficient.