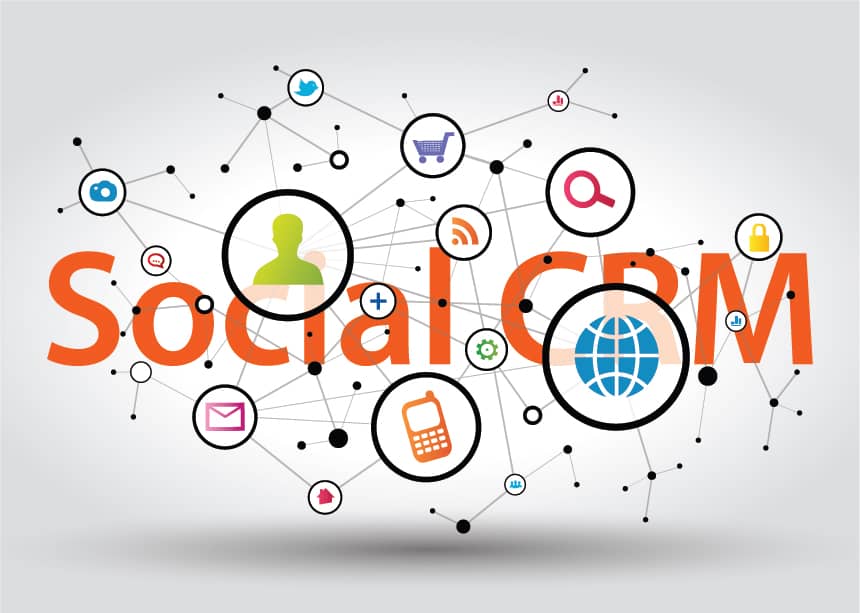 Over the past decade, social media became the most popular way of communicating for X, Y, and Z generations. Facebook, Instagram, Snapchat, as well as WhatsApp, Telegram, and Viber messengers provide young people all over the world with novel and unique ways of expressing themselves, creating content, and consuming stories and visuals created by others. What shouldn't be missed from sight is how social media and messengers open up new opportunities to engage with their customers. Marketing and support via these channels have largely substituted dull emails and cold calls, facilitating two-way personalized brand-consumer interactions. However, the increased number of touchpoints with customers makes it difficult for brands to manage all these social channels in the best manner possible: keeping response time short and answers customer-oriented. This is where social CRM make their entrance and become game changers.
Social CRM is a customer relationship management system that integrates with social media platforms and instant messengers. These software solutions allow to streamline omnichannel communication with customers and achieve higher efficiency. This is made possible thanks to such tools as social sentiment analysis, social selling, and helpdesk support. To put it plainly, Social CRMs pull information about customers from different social media channels and aggregate it in a comprehensive form, providing a unified interface for connecting with them.
Social CRM vs Traditional CRM
Traditional CRM differs from social CRM software. Traditional CRM systems obtain customer information mostly via email and phone interactions, corporate records, or data supplied by a consumer in surveys or feedback forms. Meanwhile, social media CRM software offers extended functionality in comparison to traditional CRM as it fetches customer information through social media platforms (LinkedIn and Facebook, for instance) and helps businesses provide better customer service in a more personalized manner.
Advantages of Social CRM for small business
For small to medium-sized businesses, the utilization of social channels is even more important than for their larger counterparts. The reason is that customers of such companies expect them to be approachable through social media and messengers — channels they use in their everyday life. Here, Social CRM systems provide numerous benefits for small companies on every part of their customer journey.
Social listening
Social CRMs use dedicated algorithms to scan social media channels for the mentions of brand name and specific keywords and tags. This provides a company with an opportunity to quickly discover online discussions about brands and react to them. Since most of us share our experience with a shop or digital service via stories or posts, social listening makes it easier to work with customer feedback, especially negative one. Social CRM's analytics also helps to understand the general public sentiment, for example, after a new product's launch or corporate news.
Social marketing
The Social CRM enables companies to connect with customers in a truly two-way manner. Since open rates of promotions sent via messengers exceed those sent via email by multiple times, it is doubtlessly beneficial to employ these channels in marketing campaigns. Social CRMs help to streamline and make such communication more personalized, providing marketers with comprehensive details about every customer, including purchase history, demographics, and social media activity.
Enhanced support
Whether a customer decides on a purchase or requires post-purchase support, Social CRM allows to provide personalized shopping guidance and support via channels that are most convenient for them. The centralized access to communication via several channels in a single interface makes it easy for a support agent to switch between messengers (if a client wants so), without asking numerous clarifying questions. Also, Social CRM's ticket categorization and routing make it easy to assign an inquiry to a relevant department and supply all necessary details on the issue.
Summing things up
Social CRM makes it possible for small businesses to track the progress of each prospect and create a personalized experience for existing clients, solve issues efficiently and promote the brand. All of this together results in increased sales, improved conversion, and better brand public perception far more effectively than the 'blanket' approach of traditional CRMs.
To learn more about Social CRM systems and their application for small business, check our ultimate Social CRM guide. In the article, we cover Social CRM usage tactics that have been proved to work, as well as the best solutions available on the market and their capabilities. All of this should help make a sound decision when picking a technological platform for your business.