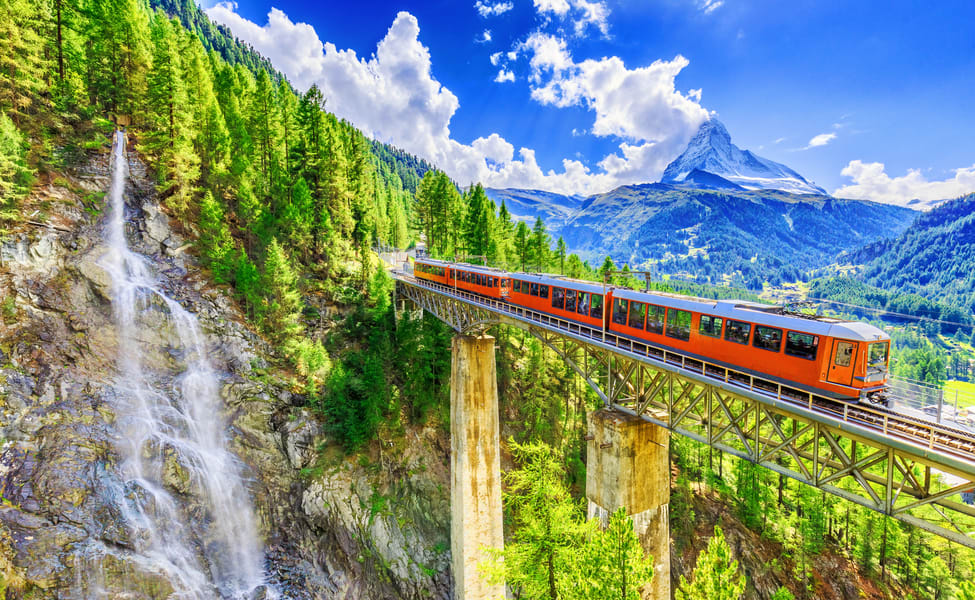 Switzerland is one of the best holiday destinations as its lush greenery, beautiful scenery with snow-capped peaks in the background, picturesque lakes, and home to various adventure activities such as paragliding, trekking and skiing make this European country a heaven for visitors. Although a small nation and known for its chocolate, Switzerland has much to offer in terms of tourist attractions. Apart from the various eye-catching scenery and climbing mountain peaks, tourists can visit the historical buildings, museums and galleries to soak in the beautiful culture of this country. So, here are the top 5 tourist attractions that are a must visit in Switzerland.
Matterhorn
The Matterhorn should be a must-visit as part of your Switzerland trip. Matterhorn, which is one of the highest peaks in the Alps, provides plenty of adventure activities to keep your adrenaline running. You can scale up the peak, or otherwise, you can view the amazing scenery by hopping onto the cable car. Skiing is a popular sport here, but other sports such as swimming and tennis are also available during the summer months. Once at Matterhorn, visit the Zermatt village at the foothills. Zermatt provides the old-world charm with its typical chalets and horse-drawn carriage rides. And what's more is that this area has banned the use of motor vehicles to maintain the charm and serenity of this place.
Chateau De Chillon
Chateau De Chillon is a historical castle located on the shores of Lake Geneva, and with beautiful snow-capped mountains in the background, it looks straight out of a fairy tale. Thousands of travellers visit this castle every year to see its grandeur, historical architecture, and paintings and murals dating back to the 14th century. It was once a water fort, but now it is a major tourist attraction, and also doubles up as a destination wedding spot for those seeking fairy tale romance. It houses 25 buildings, and three courtyards in its premises, and gives a beautiful view of Lake Geneva.

Jungfraujoch
Your Switzerland trip would be incomplete without a visit to the Jungfraujoch, which is one of the top tourist attractions in this country. It is actually a glacier that is situated between two mountains, and the most amazing part is that the place is accessible by train. The ride will give you a breath-taking view of the scenery as the train passes through snow-covered mountains to reach Jungfraujoch, the highest railway station in Europe at 3,454 meters. You can view some of the highest peaks in Eiger, Jungfrau and Monch and engage in adventure activities such as mountaineering and tobogganing here. It also offers plenty of mountain trails such as Eiger Trail for trekkers to satiate their need for adventure.
Lucerne
Lucerne is a must-visit place in your Switzerland trip. This Swiss town is free of all motor vehicles. It has a shining blue lake, snow-covered mountains, historical buildings, and large fountains to give you the feel of old-world charm. And its chill weather adds to its beauty. Tourists descend in this town first before embarking on their rest of their Switzerland trip. The annual International Music Festival is a big draw here. Apart from that, you can visit top tourist attractions such as Chapel Bridge, Lion Monument – a sculpture of a dying lion — and Swiss Transport Museum in Lucerne. You can also hop on to the funicular to the Dietschiberg to catch Lucerne in its full beauty.
Zurich

A Switzerland trip would not be complete without a visit to Zurich, which is the cultural hub of the country. The cobbled street of the Old Town is a major tourist attraction here as it has a lot café and galleries lined up for travellers to soak in the city's cultural vibe. Zurich is also popular for shopaholics, with Bahnhofstrasse serving as a great shopping avenue. Zurich is also home to about 100 museums and art galleries, with Kunsthaus Zürich and Rietberg Museum serving as a great tourist attraction for art lovers. There is also the Zurich Zoo, complete with elephant park and penguin parade, for families to spend a day out.