Software
 What is the Best Free Building Design Software
Architectural industries are one of the most successful and profitable sectors in today's world. This industry needs unique and special technology to improve more and more. That's why professional 3D architecture and building designers prefer advanced 3D building design software for their projects.
Crayons are no longer in the hands of today's designers. From the earliest concepts to the most complex structure methods, it's all computerized. As an outcome, it's no surprise that there is a wide range of program options available for various stages of infrastructure and expert abilities.
The most complex (and expensive) software packages streamline standard techniques, facilitate communication, and accelerate the entire architecture and design process. Still, even low-cost software offers a surprising amount of helpful capabilities for both learners and experts. Let's talk about CAD and BIM now. BIM is sometimes the "bridge" between CAD and construction.
design software that will enhance your artistic level in 2022. In this article, we will discuss the best free building design software.
SelfCAD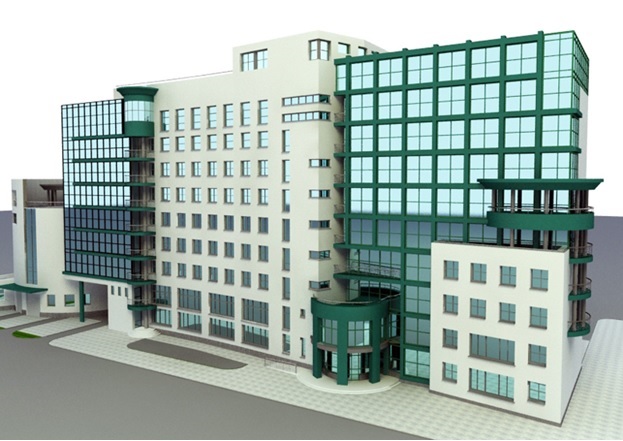 3D model of a big building. Image source: free cinema 4D models
SelfCAD is a building design software that allows one to prepare the plans of building and prototypes with ease. The software has freehand drawing and sketching tools that make it easier to perform the tasks. Additionally, there is an image to 3D model tool and reference image feature that allows one to import their 2D image and turn it into a 3D model.
SelfCAD is a computer-aided design program that users can learn and master easily. In addition to the freehand drawing and sketching tools, there are also other important tools like the boolean, sculpting, and even powerful rendering tool to help you generate realistic renders of your designs.
SketchUP Free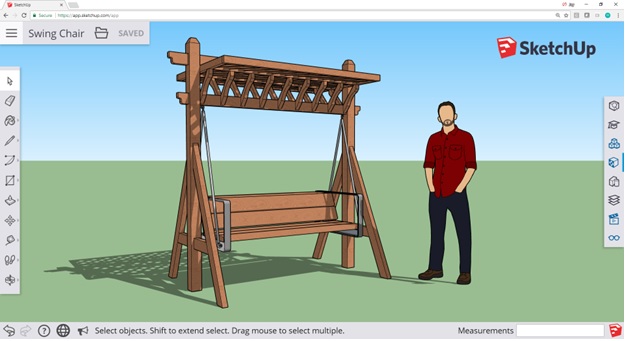 A man is standing in front of a swing. Image source: SketchUp Bog
SketchUP is by far one of the most useful free building design software. SketchUp includes several add-ons as well as a discussion platform. It's simple to pick up and produces crisp 3D images. The texture of each object, surface, and material is distinct.
Architects, designers, builders, and engineers at every level of construction design will appreciate its simple interface. One of the most popular free 3D model builder programmes is SketchUP Free. From conceptual ideas through production documentation, this free architectural design software offers a simple CAD solution for generating and modifying 2D and 3D architecture concepts, decorative layouts, furnishings, and landscaping.
Users can utilize the title blocks to design plans, facades, parts, and building features, as well as complete them. You may even create your custom layout if you select one.
With this user-friendly interface, you may wield many sketches, measurements, and many other varieties of tools. You can easily save all designs, draught projects, innovations you've made as stereolithography (STL) formats in its cloud storage by exporting them.
Also, if you would like to prepare 3D printer projects, SketchUp is also a great tool. You can use it to create 3D models that are ready for 3D printing in any 3D printer. Wether you are using an large industrial 3D printer or even just a 3D printer under $300, this software will help you prepare 3D designs
AutoCAD Free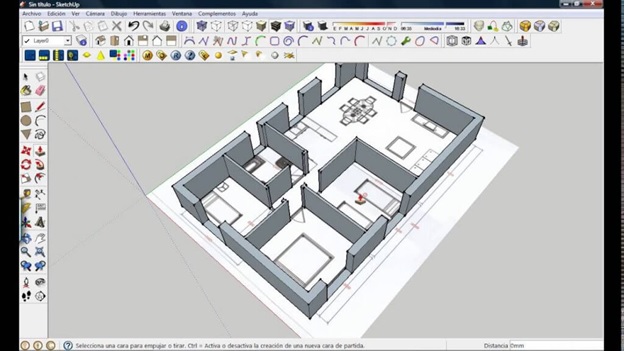 3D model of a building. Image source: Solidface
Professionals widely utilize AutoCAD for efficient development, design, creation and standard documentation. AutoCAD Free is amazing three-dimensional building software, which is free of cost. It's an economic edition of AutoCAD (paid software). You'll get a decent project with regular drawing rules and measurable design details if you start playing with layers and line weights.
Another form is AutoCAD Architectural, a comprehensive toolbox tailored to the architect's demands. It's yet another adequate building design software. The produced pictures will acquire patterns and configuration. Some other components (frames, doorways) are used as structural elements in this non-paid architectural composition software to build accurate and proper shapes. In addition, the software can also be used in creating designs for 3D printing. Wether you own an industrial 3D printer or just a simple 3D printer under $300, this software can help you create designs that ready for 3D printing.
A yearly beginner license allows you to have all the features of this amazing CAD software, even though it is free of cost! AutoCAD has an extraordinary amount of complicated equipment. Also, AutoCAD has a significant amount of documentation as well. You may manage it to understand the software's basic and complex functions.
*Informative touch
AutoCAD is a part of the Autodesk family, and it's pretty cost-effective, making it unaffordable for most students.
Sweet Home 3D
Interior design of a room created using Sweet Home 3D. Image source: Sweet Home 3D
Sweet Home 3D is a non- interior 3D building making software that allows users to examine pre-made two-dimensional architectural drawings in 3D for perspective and presentations. It's also one of the most excellent software for constructing building interiors and drawing floor ideas plots for your house or office.
Users can create lifelike photographs and films based on their blueprints, as well as add various illumination resources to imitate the environment underneath multiple circumstances. A furnishing catalog, a collection of household appliances, a building layout, and a three-dimensional picture of the building are all available.
Creators and designers can insert an overall property design or commence from scratch, sketch walls or alter living ones, including doors, window frames, and furnishings.
Planner 5D
The 5th position holder on our list of best accessible building design software is the stunning 3D construction software mechanism Planner 5D. This platform is similar to Sketch Up's unrestricted (non-paid) version. You can begin from scratch or utilize a basic framework with Planner 5D, which is ideal for quickly putting it all together with a design layout if you don't retain the hours or don't like to create a complicated configuration.
This software is handy because it functions on iOS, implying that you can make outline sketches on your mobile or iPad. At the same time, you are about to create a new building plan. It's straightforward to get initiated. Begin by modifying the shapes, dimensions, components, and color combinations of the ground, surface, walls, etc.
Accordingly, put in furnishings and appliances, shift to a three-dimensional layout, and add window frames and doorways. Set in an additional ground if you like to, and then the ceiling. A bit of expert suggestion is that if you need to use all the furniture, it can get costly for anything other than the most fundamental mattresses, beds, sofas, seats, tools, or couches in your newly-designed 3D building.
SmartDraw
SmartDraw is another influential free 3D building design software in flooring, designing, and composition. It's simple enough to understand, so no one is prohibited from using it while standing as a developed and enhanced enough to stimulate sophisticated designs for extra progressive architects.
With an extensive collection of furnishings, automobiles, building substances, thousands of in-built template ideas, and floor layout illustrations, you'll be prepared to explore an endless proportion of apparent designs, compositions, and configurations for your current area. The only drawback to this software is that it's just free for the first week of usage.
Suppose you prefer to use it for an extended period or numerous programs. In that case, it may need a subscription to the pro version.
Floorplanner
Floorplanner is a web application that allows you to construct and dress up your rooms in two and three dimensions without installing any software. The resilience of this software lies in its features and functions as a room planning tool rather than its internal decoration mechanism.
After that, you can swap perspectives and adorn the area in a three-dimensional method once the ground plan is finished. Floorplanner is reasonable and easy to operate and understand, so it's a decent option if you're looking for software that doesn't compel a steep knowledge curve. It's among the most useful free design software for designing and constructing 3D buildings, surfaces, structures, etc.
Roomstyler 3D Home Planner
The last one on our pick-up is the Roomstyler. Like the previous one, it's honestly easy to adopt, learn, and operate. It's so spontaneous that there's nearly no necessity for the informative videos available, which is another advantage of this software. Compared to other 3D building design software, this one has a few lesson videos available for each doubt you can retain about the software.
The extensively substantial bonus about this software is that designers can develop a customized compartment in a few minutes. Roomstyler also enables you to adorn your space using commodities from factual denominations, companies, brands. This implicates that you'll be decorating your agendas with elements you can buy when you're prepared for your setup to appear.
Conclusion
Nowadays, several bachelor's degree holders, passed out students are joining the 3D designing, architectural 3D modeling, and printing. They understand how to operate and survive in the 3D realm! Newcomers are freelancing in 3D modeling, sculpting, designing, illustrating, etc.
Nowadays, 3D modeling is accessible through the internet. There is much software to create a 3D building online. But, leading software needs a substantial amount of cash for both annual and monthly subscriptions. Therefore, it's hard for learners to access them. That's why eventually, the need for free 3D building software is increasing.
If there is any question, you can leave it in the comment section below. Our experts will connect with you soon.