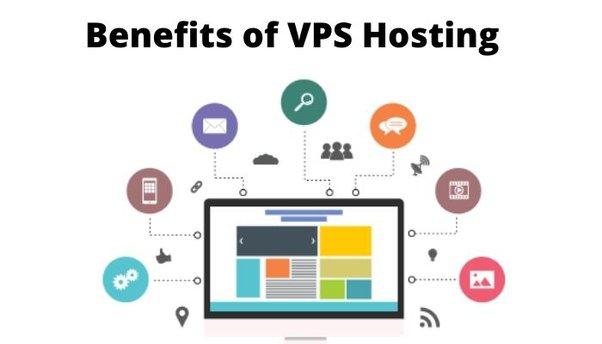 You're researching into choices since you want to host a business website. When you are prepared to host, there are a few things to consider. What kind of plan would work best for your company and be in line, including all your hosting demands?
You could have come across VPS hosting when reading an InMotion review, for example, but weren't sure if it would be a good fit for your company or not. Do not fret. We'll talk about VPS hosting in this essay, its benefits, and all the aspects it can help your company.
What Is VPS?
A virtual private server, or VPS, offers hosting services using virtualization techniques. For those who have surpassed shared hosting, it is the finest option. Dedicated hosting and shared hosting services are combined in VPS.
Although you can still have several clusters with VPS hosting, your website will be hosted on a dedicated server with various capabilities and space. VPS splits a given physical server into several virtual private servers.
Benefits of Using VPS Hosting
Here are some advantages of utilizing VPS hosting for your business website.
1.     VPS Provides Greater Security Than Shared Servers
One safety lapse on a shared server can put all of the sites in danger. Your hosting company and the sites that utilize the server with you must be responsible for your website's long-term stability. Responsibility for stability is true for shared hosting; even if they are quite secure, a brief "fire" might result in vulnerability for all domains.
VPS hosting uses virtual approaches to increase a dedicated server's safety. Since everyone who uses a VPS shares the same server, you can feel more secure and at ease. Due to the network's independence from other domains, you will also have greater safety capabilities.
2.     VPS Enhances a Domain's Performance
In principle, VPS hosting has greater bandwidth for sites with significant traffic. To prevent a domain from being badly damaged, they are also more suited to withstand increases in website traffic.
Consumers of websites expect them to operate smoothly and load pages rapidly. With a VPS, the website domain is not affected by the traffic of other websites, keeping steady and operational even during busy periods. Your SEO services will benefit from having a quick and reliable website because Google generally favors quick-loading pages.
3.     More Affordable Price Than a Dedicated Server
Dedicated server hosting is more expensive than VPS hosting, which offers more options than shared hosting. Additionally, one of the most premium hosting options available is dedicated hosting. VPS hosting is the best option for business if you opt for dedicated hosting capabilities at a lower cost. It offers more control over the server's resources at a reasonable cost.
4.     Higher Levels of Storage and Bandwidth
You get availability to more storage and bandwidth while using a VPS. It brings about improved functionality and increased dependability. Contrary to shared hosting, it enables you to have more space.
The assets grow to meet your website's needs. Even sites with exceptionally high volume can be supported by higher bandwidth. More space and bandwidth equate to more control of resources.
5.     Software and OS Freedom
Different OSes and software are frequently incompatible with shared servers. They won't permit some applications, including video servers and streaming software, to operate.
However, with virtual private servers, that's not the issue. You can use whatever software you desire with VPS hosting. You can select from the best OS choices, thanks to it.
6.     Greater Flexibility and Simpler Scalability
You would need to expand your capabilities as your site gets bigger. VPS hosting, as opposed to shared hosting, enables you to scale up your available resources effortlessly. Additionally, scaling up and down your assets with one button click is simpler.
So, one can scale up throughout a campaign or discount when site traffic grows and downscale when it ends. Furthermore, VPS hosting offers assured system resources, culminating in zero to little variation in the resources accessible.
What Hosting Plan is the Best for Your Website?
Most websites probably won't require a dedicated server when they first launch. Dedicated servers are often only necessary for websites with extraordinarily customer traffic. From a pricing standpoint, the VPS provides comparable functionalities to dedicated servers for a far lower cost.
Most websites will also discover that VPS hosting gives them the reliability and agility they require without paying the high costs associated with dedicated servers. Because scaling up is made easier with this hosting, it's perfect for companies planning to grow soon.
Conclusion
Firms face numerous problems when being online; therefore, getting the greatest hosting available will, without the need for doubt, spare you some hassles. Additionally, VPS hosting offers quick, dependable, and secure internet data management, allowing you to concentrate on the online company.