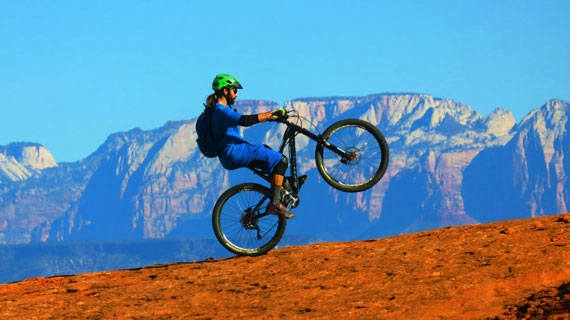 Your Complete Guide to the Best Bike Trails in Utah 2021. Ah, Utah, the land of mountains and rugged red rocks. If ever there was a bicyclist's paradise, this must be it. There's plenty to enjoy here for all types of biking and all levels. Take a look at some of the best bike trails in Utah.
The Best Paved Paths
If you would like a good place to try out your step through single speed bike, you need one of Utah's scenic paved paths. They wind through stunning views without demanding a mountain biker's skill set or equipment. Some of the most popular paved trails include:
Park City Paved Trail System: Travel from Deer Valley to Summit Park, past parks, murals, and the fabulous landscape of Park City on this trail. There are multiple access points, allowing you to choose the length of your ride.
Red Canyon Bicycle Path: This National Recreation Trail is eight miles of gorgeous red rock canyons. It's a newer trail extending from Thunder Mountain to Coyote Hollow Road, just outside Bryce Canyon National Park.
Pa'rus Trail: Located at Zion National Park, Pa'rus follows the Virgin River through lower Zion Canyon. Stunning vistas of Zion's scenery await. You will need to pay the access fee to the park.
Jordan River Parkway: A little more urban than the above trails, this bike path is nonetheless an enjoyable ride. The JRP parallels the Jordan River as it flows northward from Utah Lake to the Great Salt Lake for 45 miles. Bring your entry level electric bike
Moab Canyon Paved Path: Moab is known internationally for its crazy fun mountain biking, but for the calmer riders among us, there is a wonderful paved path connecting Moab to Arches National Park. It's a good trail for young children and families to ride together.
The Best Mountain Trails
Utah is known for its mountain biking. Whether you are still learning the tricks or are a competitive mountain biker, there is a trail for you in Utah. While some of these trails may accommodate hybrid bikes for women or men, for most of them you will want a hard-core mountain bike with all the bells and whistles you can afford.
Slickrock Trail in Moab: This may be the most famous mountain biking trail in all of Utah. Advanced riders only should attempt its 12.7 miles of steep, sustained ascents.
Mid Mountain Trail: A 22-mile path between two ski areas in Park City, this is a good intermediate-level trail. You'll ride through scenic aspen groves and lush mountain meadows.
Wheeler Creek Trail: Located outside of Ogden in Northern Utah, Wheeler Creek climbs out of the valley to join various other trailheads. The most popular is the Art Nord which has exciting single-track sections.
Wasatch Crest Trail: This ribbon of single-track winds along the top of the Wasatch Mountain Range for amazing views. There are many ways to ride this trail, making it a good choice for all skill levels.
The biking options in Utah are nearly endless. Discover what it has to offer you.