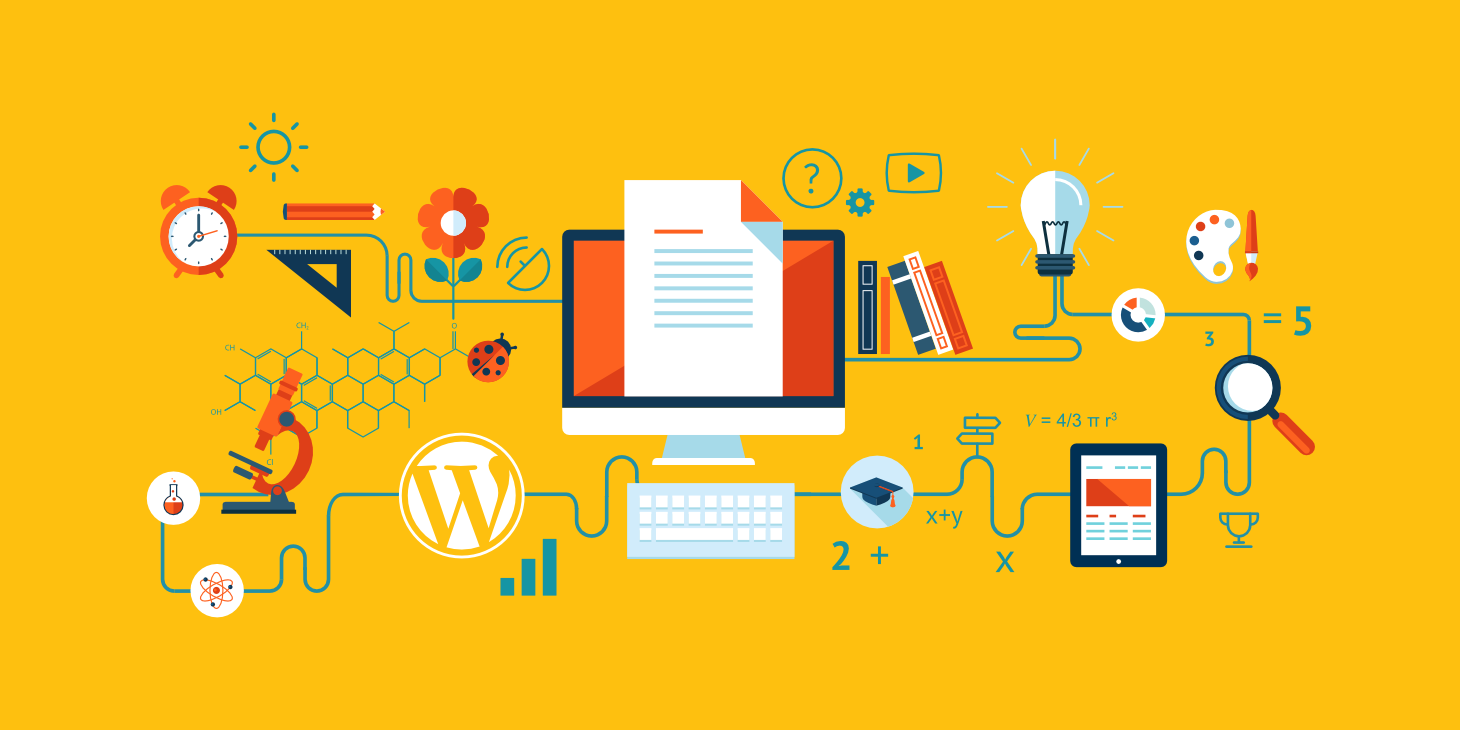 There are multiple platforms you can use to develop and run your eLearning website. But, there is one CMS (Content Management System) that can do better than anyone else in the market and that is WordPress.
WordPress offers infinite customization options for themes and plugins, which will help you in developing a dynamic eLearning platform and thus improve your business performance. Previously, WordPress was considered merely a blogging platform, but today you can create websites of all types, sizes, and shapes.
We will help you understand the benefits of using LMS integration with WordPress. WordPress is the most powerful platform for eLearning websites. Let us understand how WordPress LMS can help your organization.
1)
Easy to use Admin Panel
WordPress offers a simple and clear admin panel that is easy to use, unlike full-fledged eLearning platforms with technical and complex admin panels. Unnecessary and complex features slow the system down and also require ample technical training to use those features. Moreover, these complex features are never used by the users. With WordPress LMS, you will not have to be technically trained to use these features as they are easy to understand and can be used without any issues.
2)
Cost-Efficient
WordPress is an open-source platform, thus using WordPress LMS is very beneficial. You will not have to spend a fortune for transforming your traditional site into a fully functional Learning Management System. WordPress offers a wide range of themes and plugins which can simplify the overall online learning development. You will not have to spend on buying extra features as WordPress is in itself loaded with features.
3)
SEO Friendly
Optimizing your website is of utmost importance to generate traffic. The conversion rate of the websites that rank first will always be high, SEO (Search Engine Optimization) is very important and with WordPress SEO is very easy. You can employ SEO plugins to enhance the visibility of your website. You can create, descriptions, Meta tags, site names, etc, which are an added advantage of WordPress LMS. You can do this within a couple of minutes and the benefits will be amazing.
4)
Easily Customizable
WordPress LMS provides multiple customization options. You can customize your platform to meet your specific requirements. With the help of multiple tools available on WordPress LMS, you can improve the workflow and create an efficient module. WordPress comes with many theme options, which have been developed keeping in mind diverse business needs and requirements. You can pick any theme from the premade themes and save a lot of time.
5)
eCommerce Plugin
WordPress can help you earn money by selling your courses online. With the help of WordPress LMS integration, you can conduct online classes and offer subscription-based access to your online course content. You can earn money by adding an eCommerce plugin to your WordPress LMS platform. No other LMS platform will let you add additional plugins as WordPress does. By selling your courses online you can generate income for your business.
Several features of WordPress LMS can help you transform your eLearning platform.
     

Certification

– You can give a course completion certificate to your workforce to showcase their accomplishments.

     

Manage Courses

– You can manage, create, and upload the course material.

     

Generate Reports

– You will be provided with reports to understand the performance parameters and overall growth.

     

SSO (Single Sign-On)

– WP LMS helps you with hassle-free logins and manages logins from different roles.

     

Video Content

– With the help of video content deliver the online content with ease.
Now you know about how WordPress LMS can help your organization. WordPress brings vast opportunities when it comes to creating and managing eLearning content. You can use it the way you want for your Learning Management System. Use the free plugins initially and once you are sure the plugin is useful for you and your business in the long run, you can invest in the same. Thus, WordPress is the best option available to create an eLearning website for your business needs. WordPress is huge.