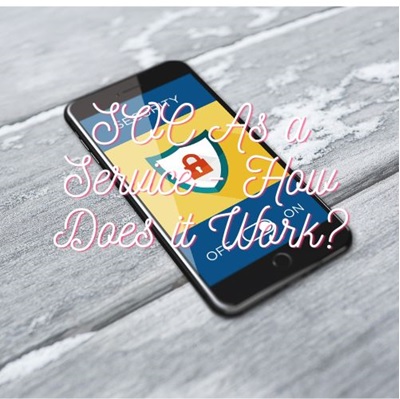 The benefits of SOC as a service offering are numerous, but what is the cost of hiring a third-party SOC provider? Read on to learn more. In addition, we'll explain how SOC services can benefit your organization. This service supports your secure growth by allowing you to scale as needed. As an added benefit, SOC as a service is much less expensive than an on-premise SOC.
What is a SOC?
A SOC is a group of individuals who regularly audit security systems. They can be on-premises, global, cloud, or hybrid. It can protect your highly confidential data and consumer information. The types of individuals on a SOC team differ from one another, and the tools and personnel they use are different. Whether you outsource your SOC functions or hire a company to do them, your costs and staffing will be affected by the decision. You should carefully evaluate the costs and benefits of each option to determine which is the most suitable one for your needs.
SOC as a service offering
If you've ever wondered how SOC as a service offerings work, the answer is straightforward: they use security analysts and other experts to protect your data from threats. Having qualified professionals on staff can be a huge benefit for your company. Using a managed SOC service means you're less likely to experience security breaches, which can lead to hefty fines and even damage your brand. These services will help mitigate the damage of any attack while providing a comprehensive view of your security infrastructure.
While security analysts are an essential part of an SOC, organizations are often challenged to recruit and retain the talent they need to keep up with changing threats. A recent study found that 80% of organizations struggled to find qualified cybersecurity specialists. Further, hiring and maintaining a variety of security products is costly. Additionally, data collection and storage costs are also significant costs of running an on-premises SOC. In other words, a managed service can be the perfect solution for these organizations.
An external managed SOC team can analyze the data and correlate it with external cyber intelligence sources to provide context for a business. A traditional SIEM can generate a huge number of alerts, which can be confusing. The external managed SOC team can research multiple alerts and minimize alert fatigue. This can help companies focus on the most important threats while limiting the impact of alert fatigue. The industry has the expertise to make the most of these capabilities.
Costs
However, SOCs are expensive and require significant investment in personnel, tools, processes, and human knowledge. In addition, dedicated SOC space can be expensive. Therefore, organizations looking to outsource SOC services should consider the costs of such an offering. However, it is important to remember that SOC as a service is a more affordable option for small organizations.
In 2020, a pandemic caused chaos across the world. The virus spread from human to human, and posed a similar threat to computer network users. Companies and workers were scrambling to figure out their new remote working styles. Some left the door wide open for cyberattacks. To prevent this situation from arising, they needed to hire a professional SOC.
The cost of SOC as a service offering varies depending on the complexity of the organization. Costs can range from a few thousand dollars to millions of dollars. The cost of building a SOC in-house can take months or even years, depending on how much time it takes to establish and fine-tune its infrastructure. Moreover, it can be difficult to find reliable and retainable IT talent, especially given the high turnover rates in the industry. Hiring and onboarding employees could take months, and this could be expensive for many businesses.
In addition to the initial costs of SOC as a service offering, the MSP must also consider the ongoing cost of maintaining and supporting a secure infrastructure. As the threat landscape changes, organizations must add more security tools to their security stack. These tools become a patchwork, which can be expensive to manage and hard to get meaningful security insight out of.
Benefits
A SOC as a service offering can provide you with an objective perspective on your cybersecurity efforts, including threats and vulnerabilities. A SOC as a service provider will work with your in-house IT team to develop and implement a cyber security strategy, and they can even provide training to newer employees.
Outsourced SOC companies will be comprised of professionals with extensive knowledge of security systems, including firewalls and intrusion detection systems. This can be a valuable benefit for businesses of all sizes, especially small organizations that can't afford to hire a security specialist or expand their office space.
SOC as a service is easy to deploy and can auto-discover security insights on all of your assets. With a managed SOC, you can focus on your business's core competencies while leveraging the expertise of cybersecurity experts. Your business's reputation will also benefit from the SOC as a service. When your business invests in an SOC as a service, it'll be able to avoid the high cost of staffing, and you'll be able to benefit from an increased number of recommendations from satisfied clients.
Outsourcing SOC as a service is a great way to free up time for other tasks. In-house security teams typically struggle to find skilled analysts. Additionally, they are hard to hire and difficult to keep. They need to constantly recruit, train, and onboard new members.
Third-Party Provider
While traditional soc as a service provider often only offer basic protection plans, SOCaaS providers can offer a variety of customizable packages based on your needs.
While many organizations may be happy to purchase tools and training to build their own SOC, the initial investment is often prohibitive for the average organization. Additionally, the cost of hiring a full-time employee to monitor security risks is nearly twice as high as using an external provider. While it's possible to outsource security functions to a third-party provider, implementing these systems yourself can complicate the regulatory compliance process.
A good SOCaaS provider should offer a customer web portal with multifactor authentication, role-based access control, and analytics. It should also offer an independent audit of its cybersecurity practices and conduct regular internal and external penetration tests. In addition, the provider should have credentials in a recognized cybersecurity standard, such as the Federal Risk and Authorization Management Program (FRAMP), PCI DSS, ISO 27001, and SSAE 16.
Compliance requirements
Whether you're developing a new software product, or expanding an existing business, you'll likely need to consider SOC as a service offering. These services can help you comply with a variety of compliance requirements and demonstrate your commitment to security. An individual SOC audit can cost tens of thousands of dollars, not including the time, staff, and infrastructure required to conduct it. However, the added security provided by a third-party audit is worth the cost in terms of assurance that your service provider is a reliable and trustworthy service partner.
In addition to addressing the security and privacy of customer information, SOC as a service offering companies need to meet the confidentiality criteria, which addresses a company's ability to protect sensitive data, such as client information intended for internal staff. This includes intellectual property, business plans, and other information that needs to be protected. A company should also adhere to privacy principles and use clear and conspicuous language to avoid misinterpretation. Moreover, personal data should be protected using high-level access controls.