The moment has arrived, and you are finally going to make that journey with your pet that you have waited for so long. The vacation period is not just for rest. It is ideal for spending time in a different environment doing different things than usual. Traveling with a pet is entirely possible and manageable. Before packing all these things, there are essential things you should know to plan accordingly. But now you have to prepare for your darling friend. Preparing for a trip is always exciting, but traveling with your pet makes it more fun.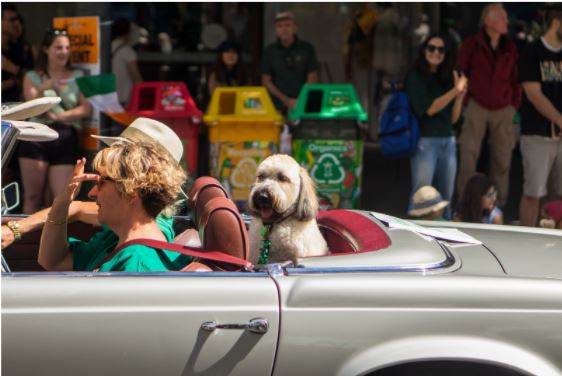 01: The Principal Thing To Do Is To Make A Packing List
Pet-proof protection for your car seat.

Water container.

Food bowl.

Pet bed.

Leash.

Harness.

Water.

pet potty pad for the hotel.

Recommended pet crate.

pet stool bags (for poop or vomit)

pet carrier.

Muzzle.

Pet carrier with light blankets inside.

Pet vaccination record.

Health certificate from vet issued 7 days before the flight.

Thundershirt can reduce stress.

The vaccination record and passport.

pets medicine and your medicines also.

First aid box.

Travel bowl.

Collar.

Identification plate.

Photo of your pet.

Bags and more bags for your needs.

Old towels and sheets.

Cleaning supplies.

Toys.

His favorite music.
02: Hire Professional Packers To Make It Easy For Your Journey
Although traveling with a pet may sound personal, you always need to efficiently pack all those items for you and your pet ideal for transportation. If you are very busy, you can go to Google and search for "Packing Service Near Me". With search results, you can hire packers of your choice. An expert packing company is a perfect solution for all the required equipment, including transportation boxes and packaging elements.
Professional packers are specialists. They understand how to quickly carry things in and out of the building and get the job done much quicker than you could on your own. This means you spend less time on the tiresome drudgery and more time on the actual journey plan. In other words, your money is well spent. Hiring packing professionals for traveling isn't as costly as you might think.
03: Pack Vaccination Record And Passport To Be Stress-Free:
It depends on where you go. You may need a passport. Different continents use different laws for this. But it is always advisable to also keep the vaccination record of your pet. If you need to go to an emergency vet, it may be relevant. Even our healthiest pets can experience an emergency and leave us with difficult financial decisions. Bivvy pet health insurance can provide you with peace-of-mind, knowing you're prepared for your pet's unexpected expenses.
It is an excellent concept to take a photo of it and upload it to Google Drive. Do the same for the adoption certificate there, just in case.
04: Pack Your Medicines To Be Safe
If you have any prescribed medication, it is the first thing you should prepare. If you want to hire professional packers, you must tell the person about your medicine so the person can put that on your fast-access bag. In some places, access to pet medications is impossible.
05: Ensure To Keep A First Aid Box For Any Mishaps On The Way
There are some ready-made first aid kits like this on the market. But you can also do it yourself. This is something you should have at home just in case. The necessary material would be:
Removes ticks.

Powder to stop nail bleeding.

wound cleaning serum or liquid.

antiseptic wipes.
06: Load Enough Food And Water For A Pleasant Journey
It depends on your destination, you can have access to animal food or not.
But at least it takes a couple of days for the trip. It is always advisable to bring dry food as it will be easier to store and last longer open.
07: Provide A Reward Technique For Better Behavior
Don't forget the treats that your dog likes the most! You can do this every time you and your pet stop at a pit. You will definitely sense the positive vibes from your pet to keep him cheering.
08: Consider A Compact Travel Bowl For Saving Space
Always carry extendable bowls when traveling with your pet. When you finish eating, they should fold up and take up nothing. These types of travel bowls easily fit in a camera backpack, hence a more efficiency there.
09: Use Collar And Leash To keep Things Peaceful
Although your dog is used to going off the leash, it is advisable to initially put it on.When traveling to a new place, your friend will discover new smells and even noises that she does not know. It may feel strange or panic, and they come here to stop working.
10: Consider Using An Identification Plate For Any Unfortunate Event
Your pet must have an identification plate with your phone number. If you travel abroad, it would be convenient to put your country's prefix and an email. In summary, it would help a lot in communication with people who speak another language.
11: Keep A Photo Of Your Pet Handy In Case Of Lost And Found
But in the worst case, if it gets lost, have a photo of your pet handy, so you can print posters quickly. Your cell phone should be full of pictures of your pet already.
12: Keep Extra Bags And For Your Needs
You don't want to run out of bags in the middle of a site and have people think you are irresponsible for not cleaning your friend's needs, right?
13: Use Old School Flashlights For Better Performance
And if you do not know if your destination is well lit, it is advisable to carry a flashlight for night walks. You can always use the mobile light, but a small flashlight is still more comfortable to hold than a mobile.
14: Old Towels And Sheets Will Save You Many A Time On Your Journey
You are going to use it for a thousand things. If the dog has been filled with mud, they are perfect for cleaning the paws before entering the hotel or car. However, you can also put them on the sofa in your room so that your friend can climb.
15: Pack Cleaning Supplies To Keep It Sanitized
We already know our friends. Even if you don't have it prepared, it sure gets covered in something or gets where it shouldn't. You never know if you will have to take a shower, and it is never wrong to carry a small bottle of soap.
16: Toys Will Cheer Your Four-Legged Friend A Lot
Don't forget about her favorite toys. Those familiar smells will help reduce the stress that traveling can cause. Also what kind of vacation would it be without being able to play?
17: Pet Will Relax More When You Play Her Favorite Music
Carry a small speaker that you can put an SD card with music, but that keeps it company when it is a room guard. For a short period you can even keep your pet inside the car, such as sightseeing on a ferry.
18: Take Your Pet's Bed To Keep Things Natural:
And to close the list, the most obvious, your favorite bed and blanket. If you travel with his usual bed to sleep, you will prevent him from ending up sleeping in your bed, sofa, or any other part of the room.