PDF files have become a more and more popular file format for work because of their security and compatibility. It is usually relatively small, as well as easy to transfer and store. At the same time, PDF can be achieved cross-platform, which greatly reduces the chances of receiving a messy code. But it is also due to the special nature of PDF documents – cannot be edited and changed causing some problems in reading and processing.
With the increasing demands for PDF conversion and editing, the market has emerged many different PDF editors, online tools, desktop applications, mobile applications, and so on. Therefore, how to choose for the user has become a major problem. This review will introduce one of the best free online PDF editors to you from the pros and cons, home page interface, functions, and main characteristics – PDFgear.
Comparison with other Popular PDF Tools
For editing PDFs, there are many products of the same type as PDFgear in the market. Here, some popular tools are listed to make some comparisons in terms of price, desktop application, usage restriction, sharing function, language options, etc. – SmallPDF, ilovePDF, Adobe Acrobat Online, and SodaPDF.
Price
PDFgear: Free.
SmallPDF: 7-day free trial. $12 per month.
Adobe Acrobat Online: Paid (7-day free trial after payment). $17.24 per month (minimum one-year contract).
ilovePDF: Free version and Upgrade version ($7 per month).
SodaPDF: Basic version (free) and Paid version ($2.99 per month).
 Installation
Online tools: Adobe Acrobat Online.
Downloadable software: PDFgear, SodaPDF, ilovePDF, and SmallPDF.
Sharing
PDFgear: support sharing after downloading as a local file.
Adobe Acrobat Online: support downloading to devices or sharing as a link.
ilovePDF: can be downloaded locally, uploaded to Google Drive, saved to Dropbox, and exported as a link or QR code for sharing.
SodaPDF: can be downloaded locally or shared via email.
SmallPDF: can be downloaded locally, exported to Word, PPT, EXCEL, IMAGE, and saved to SmallPDF, Google Drive, or Dropbox.
   Login
Login required: Adobe Acrobat Online.
No required: PDFgear, SodaPDF (free version), ilovePDF (free version), and SmallPDF (basic version).
Pros and Cons
Of course, even if it is a highly recommended PDF editor, PDFgear cannot be perfect. It still has both advantages and disadvantages. But its developers are also constantly exploring to make PDFgear better providing users with more satisfactory solutions.
Pros
The main interface is simple and neat, with no ads on the main interfere.
The storage space occupied is very small and the resolution speed is quite fast.
The privacy protection is good, and it doesn't leave any traces after use.
No fees are charged for either online tools or desktop software.
No watermarks with web logos are forced to be attached to the downloaded documents.
Free and unrestricted access to the tool and its use.
Tutorial tips for using the web tool. Each function can be accessed by clicking on it and then scrolling down to see a step-by-step tutorial.
Cons
In case of a web crash, the online application will not save any previous actions.
Only one language choice – English.
There may be a delay in using some tools when adding notes to PDFs sometimes.
Home Page Interface
To get start the PDF editing process, first, you need to enter the PDFgear online tool. PDFgear's web interface looks very dynamic with a pink background. The first line is a summary of various tools and categories: PDF Convert, Compress PDF, Edit PDF, Read PDF, and All PDF Tools. and the top left PDFgear logo allows you to return to the home page which is equivalent to the "Home" button. Next, PDFgear lists the most popular features for you so that you can click directly without searching them separately. Scroll down and you can see some real experiences from users. If you want to know more about PDFgear, such as Cookies, Blog Center, Privacy Police, Guide, etc., you can click at the end of the page to learn more.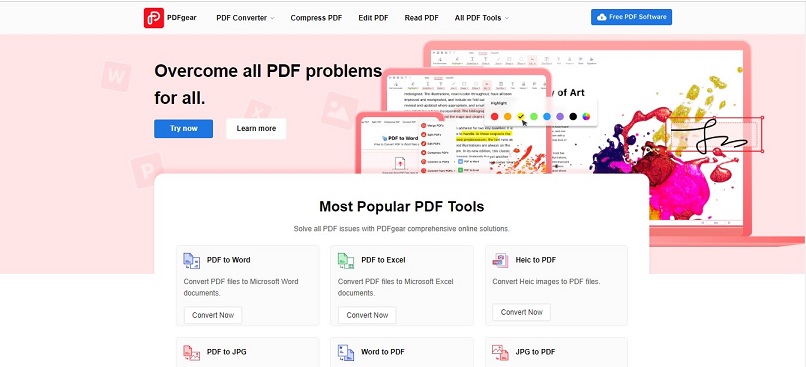 View PDF
PDFgear has a powerful PDF reader tool that can make you read faster and more efficiently. When you import a PDF file, click <Page Thumbnails> on the left to see the number of pages in the document, and click on any page number to locate the corresponding location (the arrow on the top left can also assist in jumping page numbers). And, PDFgear will automatically mark bookmarks for your document to facilitate quick navigation. <Pan Mode> is used to drag and drop pages to prevent accidental changes to the content of the document, and the <Search> function allows you to quickly search and find.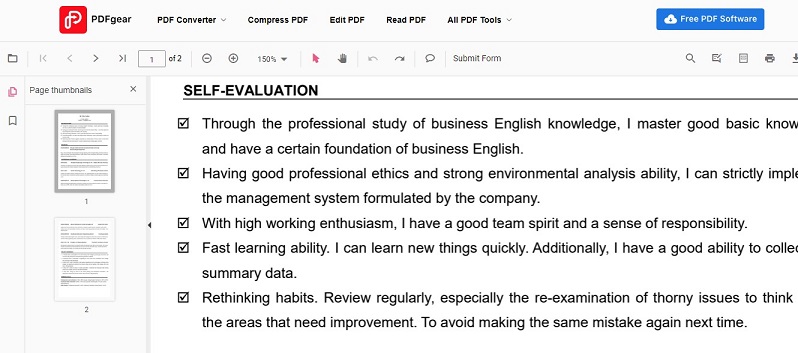 Redact PDF
Because the uneditable nature of PDF files annoys many people, various PDF tools appear to break this limitation. PDFgear can be said to have done a good job in this respect. The <Edit PDF> of the homepage makes it easy for you to notice. You can add comments, highlight, draw PDF, add measurements, add a signature, add a stamp, add shapes, add underline and underline, add text, and so on to PDF files through PDFgear. If you want to go back to the previous step or switch back to the next step, then you can use the <undo> or <redo> function button. But the only drawback is that when you are drawing a PDF, PDFgear currently does not provide an eraser, so you can't erase the drawn lines or pictures. You can read How to Add Comments on PDF for some detailed editing steps.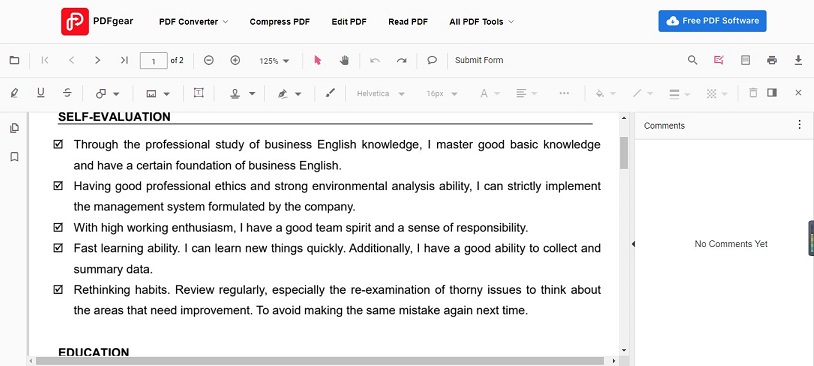 Change Format
Within PDFgear, you can find conversion tools for many different file formats. There are two main categories around PDF format: Convert from PDF and Convert to PDF. you can convert PDF files into Word, Excel, JPG, JPEG, and PNG. you can also convert Word, JPG, JPEG, Heic, and PNG files into PDF to achieve the conversion between the file formats to each other. When you enter a conversion process, you can upload files by dragging and dropping, and selecting folders to get started. Then follow the step-by-step instructions to complete the whole operation.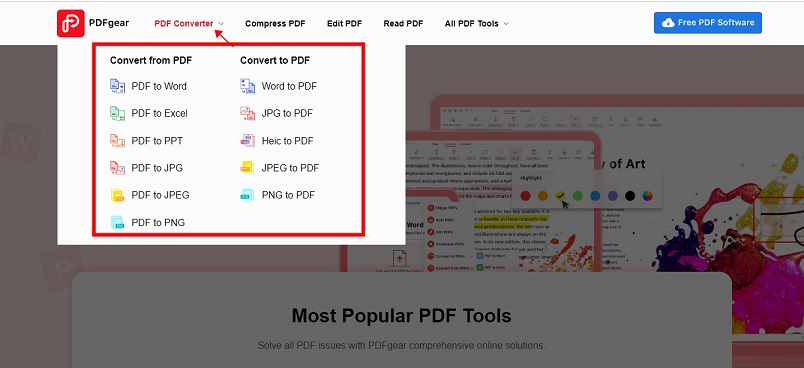 Size Control
Nowadays, many PDF files that need to be transferred or uploaded will have a file size limit. Therefore, the feature of compressing the files is especially important. Go to Compress PDF tool to enter the compression stage. After the files are quickly imported, there are three compression options to choose from Low compression with high-quality but larger file size, Medium compression with high-quality and medium file size, and Strong compression with less-quality but smallest file size. So Medium compression is the most recommended compression option.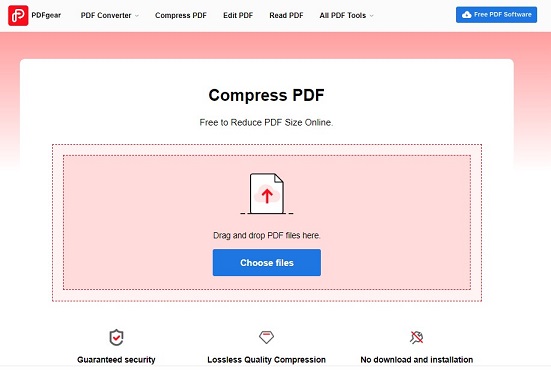 Other Features of PDFgear
In addition to the above functions, what other features of PDFgear can attract our attention?
Safety
Because PDFear does not make it mandatory for users to log in, your personal information will not be disclosed as a result. PDFgear is committed to strictly following the site's privacy policy and will not illegally store any of your files or data. Their tracking service will expire the moment you close the page.
Quick Response
PDFgear, as an online tool, does not have many start-up restrictions. You can operate anytime and anywhere only if you have internet access. Whether you want to upload or download files, PDFgear provides you with an extremely fast experience.
Convenience
Because users are allowed to use it without an account, the registration of relevant accounts is eliminated. PDFgear also enables cross-platform operation, compatible with Windows, macOS, Linux, Android, and iOS. so whether you are using a cell phone or a computer, you can access PDFgear web pages.
Conclusion
PDFgear, as a completely free online tool, offers you many unexpected solutions: conversion between different document or image formats, PDF compression, PDF editing, PDF reading, PDF crop, and so on. All of these can make your office work in an efficient mode. Particularly, the no compulsory login prompt has won a lot of goodwill, which effectively reduces the complex registration and set-up sessions. The most important point is its concern for user privacy, which allows you to use it without worrying about revealing any information. Of course, if you want to unlock more features, you can also download the PDFgear desktop application to try.