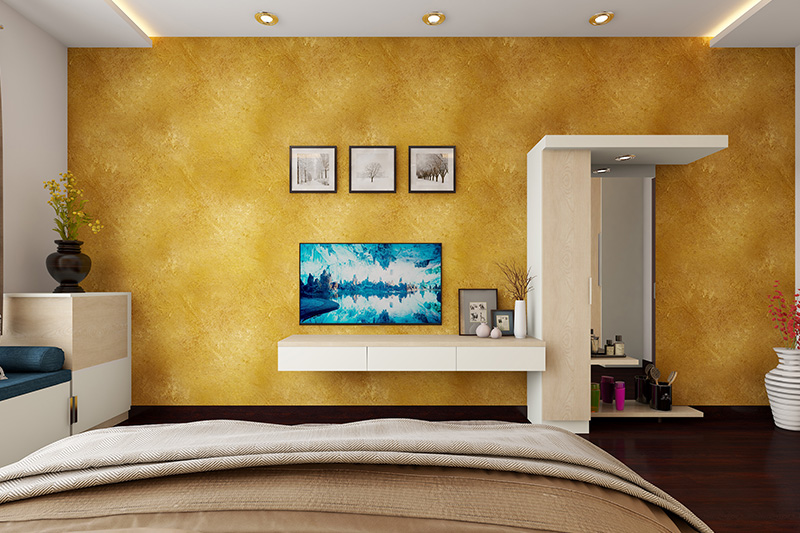 In the field of home painting, styles such as painted murals, color blocking and textured wall designs have made a comeback and are now a mainstream trend. They are simple concepts that have been tried and tested and are sure to beautifully transform your walls. It is an added bonus that all these styles and concepts are super simple to do and aren't time or cost intensive. These creative ideas for color-blocked walls might inspire you to create your own work of art with some painters tape, paint and a few artfully done brushstrokes.
This inexpensive DIY project is also a great way to use up any paint that may be leftover from earlier since you're just painting a portion of the wall. It's a lot of fun to paint on your own because, even if anything goes wrong, you can just paint over it so feel free to experiment with something like a pink two color combination for bedroom walls or a stencil design for your living room. For ideas that will inspire you to take the plunge with your bedroom, keep reading.
Color-Blocked Walls With Arches
If your home has arches, a good idea would be to use two somewhat different shades of the same tint to subtly create depth among your walls. The arches should be marked off with painter's tape so that you can begin painting them first and filling them in afterwards. Your space will seem understated but elegant with painted arches that create a scalloped effect in the Art Deco style. This specific color-blocked design stands out without being intrusive and works on almost all sizes of arches.
Make The Most Of Two Colors
Looking to go retro? Try using the two tone line color blocking technique for a more retro vibe that still has some old-school appeal. By separating a wall into two distinct color blocks, you can easily create the appearance of wainscoting or other molding. Utilize the two-tone technique and contrasting colors, such as black and white, to create the illusion of more space. For a seamless look, try to fit the color transition in relation to a window or door frame or the typical length of a picture rail.
Choose A 3-Color Strategy
What's better than using one or two colors? Using three! It's typical to use two hues or tints for color blocking. If you want to go one step further and level up your paint game, consider using a color-blocked design in your space with three different shades. Try using three or more distinct paint colors to instantly make color-blocked walls stand out. Keep the two-tone walls as they are and add accents of a deeper or stronger color where you want to draw attention. While a third strip of color adds visual interest and contrast, the two major wall colors will provide a feeling of solidity and balance. A striking monochromatic effect is produced by the use of light, medium, and dark shades of the same color and you can experiment as much as you want.
Make A Comfortable Color-Blocked Nook
While color blocking is often used across the room, it does not have to be limited to just that, as you can use it in whichever style you prefer. Color blocking is a good way to designate a nice reading or tea time area in your house or room since it generally highlights certain areas of the space. For this look, extend your color-blocked wall treatment to the ceiling or just paint the space where you want this nook to be. When placed against the white walls, the high-contrast paint job will create the impression that will make it stand apart from the rest of the room.
Wall painting designs have swiftly risen to the top of this year's most popular trends due to how many different ways and rooms they can be added in. Whether it is a DIY project or a large scale renovation, wall painting is something that will instantly change the look and feel of your home.