Technology
Maximizing Customer Engagement with HubSpot Call Center Software Integration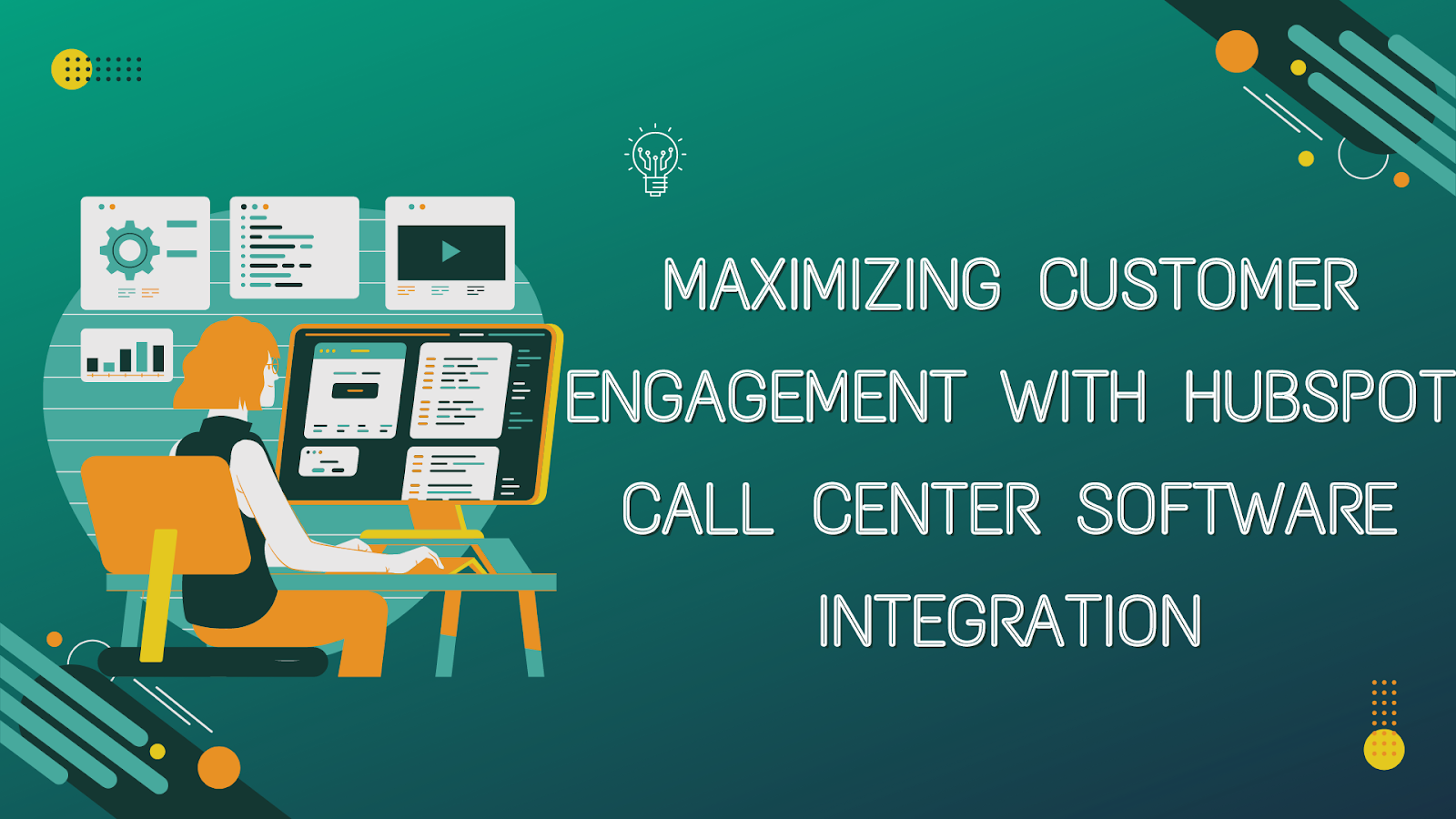 For successful businesses, customer engagement and interaction with the company have to be there. It can be well achieved by the transition towards integrated software solutions for customer service, which has been transformative for many businesses.  
By amplifying the capabilities of individual software, integration paves the way for streamlined and personalized customer interactions. With solutions like hubspot call center software integration, businesses can unify platforms for optimal customer engagement.
In this article let us see how to maximize customer engagement with Hubspot call center software.
HubSpot's Call Center Software 
With its powerful CRM platform used by over 100,000 companies worldwide, HubSpot is a standout choice for businesses seeking an integrated customer engagement solution.
Key features like intelligent routing, omnichannel messaging, and CRM sync make HubSpot's call center software highly advanced and scalable. By centralizing data insights and support channels on one connected platform, HubSpot removes friction from customer interactions.
The Mechanics of HubSpot Call Center Software Integration 
The process of integrating HubSpot with existing call center software is relatively straightforward. HubSpot provides detailed documentation on how to configure integrations with major players like Five9, Genesys, and Talkdesk. 
Between customizable APIs and out-of-the-box integrations, HubSpot flexibly adapts to a company's existing setup and needs. Seamless integration leads to a unified data flow between systems, eliminating tedious manual data transfers. 
According to a study by Aberdeen Group, integrating CRM systems like HubSpot with call center software can lead to a 20-30% increase in sales. With a comprehensive view of customer interactions, agents become empowered to have smarter, more personalized conversations.
Strategies to Maximize Customer Engagement Post-Integration
Once HubSpot is integrated with call center software, there are several high-impact strategies teams can implement to get the most out of this unified setup:
Personalize Interactions with Data Insights
With all customer data flowing into one platform, agents can view detailed profiles and history to personalize outreach. Customer segmentation and monitoring tools in HubSpot also empower agents with impactful insights.
Automated Follow-ups and Feedback Loops 
Workflows and automation in HubSpot CRM bridge the gap between call center interactions and follow-up actions. Smart reminders, feedback surveys, and lead nurturing ensure continuous engagement.
Utilize Analytics for Optimization
Powerful analytics on call duration, resolution time, customer satisfaction and more enable managers to identify areas of improvement. KPI dashboards provide unprecedented visibility into engagement strategies.
According to Forrester, companies that excel at lead nurturing through CRM and call center integration generate 50% more sales-ready leads at 33% lower cost.
Achieving more sales-ready leads at a reduced cost is a game-changer for any business. As we delve deeper, let's explore real-world examples of companies that have harnessed the power of HubSpot's call center software integration to transform their customer engagement strategies.
Case Study
Food Delivery Service Seamless Integratration with HubSpot
Seamless, a popular food ordering and delivery service, integrated its Five9 call center system with HubSpot CRM to enhance customer satisfaction. With all order data flowing into HubSpot profiles, agents could easily view details like order history and give personalized, effective support. 
Post-integration, Seamless reduced repetitive calls by 50% as customers got resolutions faster. First contact resolution also saw significant improvement. By nurturing customers through follow-ups and satisfaction surveys, Seamless increased repeat purchases by 23%.
Forthcoming trends: 
The Evolution of Call Center Software Integration
In the future enhanced customer technology can be well achieved by AI, thus AI and machine learning will pave the way for automated query resolutions, smarter call routing, etc., 
Implementation will grow faster because integration is growing. As solutions like HubSpot streamline and democratize integration through APIs, templates, and documentation, virtually any business will be able to actualize the benefits without high complexity.
Resolving Customer Queries
After a call, there is a chance that the customer may have queries that are effectively solved by integrating call center software because Hubspot automatically sends a customer gratification survey and feedback form. Thus, the customer queries got attention from the company to get resolved.
During the call, if the customer tells any negative statements they will be addressed, and creates a task for managers automatically where the customer's challenges are well resolved.
Chatbots are also present. Those intelligent chatbots help people to overcome problems effectively and also gather feedback as well.
Personalize Interactions with Data Insights
At its core, HubSpot delivers an integrated view of each customer by linking call data with CRM records. This powers personalization in many ways:
Customer history, previous conversations, and important details are visible with a single click rather than having to cross-reference systems. This context helps agents have meaningful conversations.

Issues and pain points faced by the customer over time can be analyzed to map out chronic problem areas that need resolution.

Customer personas and segments built within HubSpot allow intelligent routing of calls to agents with relevant knowledge and skills.

By automatically appending call notes to CRM profiles, agents dealing with the same customer have a key context to deliver consistent and personalized support.
Analytics on most called departments, previous resolutions, and feedback help managers identify weak spots and enhance the customer experience. With all interactions and data funneling into a unified CRM, delivering hyper-personalized customer experiences at scale becomes a reality.
Frequently Asked Questions (FAQs)
Q1: How does HubSpot's call center software integration differ from other CRM integrations?
A key differentiator is HubSpot's robust analytics and machine learning capabilities. The built-in tools provide unparalleled insights compared to other CRM and call center integrations on the market.
Q2: What are the common challenges businesses face during the integration process, and how can they be mitigated?
Data synchronization issues and agent onboarding in new systems are common hurdles. Following vendor guidelines, using internal champions, and starting small with piloting tend to smooth out the integration process.
Q3: How can businesses measure the ROI of their HubSpot call center software integration?
Key metrics like resolution time, customer satisfaction, lead conversion, and sales growth pre and post-integration will demonstrate ROI. Ongoing monitoring through HubSpot's analytics can ensure the maximization of ROI.
Wrapping Up
As more factors determine customer satisfaction and loyalty, businesses need integrated systems that can connect the dots. HubSpot's call center software integration, along with strategies to optimize engagement, creates a powerful foundation for providing excellent, personalized support across channels. To embark on an integration journey or maximize an existing setup, leverage the tips and best practices outlined above.