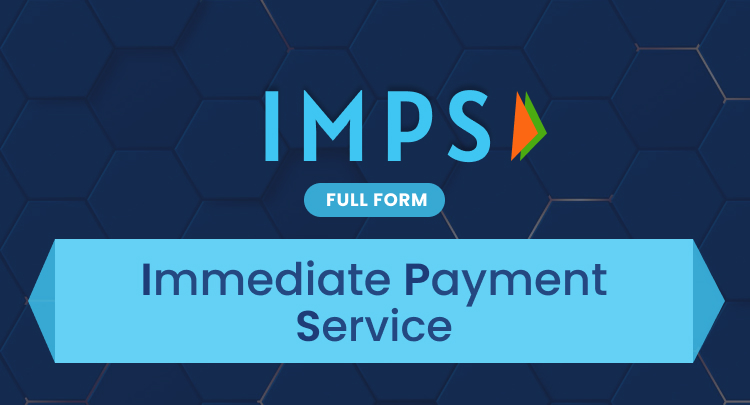 In this article, we are going to know IMPS full form.
IMPS Full Form
What Is The Full Form Of IMPS?
The IMPS Full Form is an Immediate Payment Service.
IM= Immediate
P= Payment
S= Service.
IMPS Full Form: In the Indian financial system, the Immediate Payment Service (IMPS) is a method of transferring money from one bank account to another immediately. When just NEFT and RTGS services were available in India, the system permitted real-time, interbank electronic money transactions to take place 24 hours a day, seven days a week, 365 days a year. Citizens can gain access to the facility through a variety of means, including mobile phones, ATMs, the internet, and text messages.
The National Payments Corporation of India (NPCI) launched the IMPS pilot program in 2012, with just four banks participating-  the State Bank of India, the Bank of India, the Union Bank of India, and the ICICI Bank.
Later that year, NPCI expanded IMPS to cover YES Bank, HDFC Bank, and Axis Bank, among other financial institutions. The International Monetary Payments System (IMPS) was officially inaugurated on November 22nd, and it presently comprises 53 commercial banks, 101 districts/rural/urban, and cooperative banks.
What is IMPS?
The Immediate Payment Service (IMPS) is a service provided by banks that allows for real-time interbank money transfer between financial institutions. IMPS, in contrast to NEFT, allows funds to be transferred at any time of the day or night, including holidays and weekends.
The International Money Transfer System (IMPS) seeks to make electronic funds transfers simple and convenient for consumers while also supporting the Reserve Bank of India's goal of electronification of retail payments. In order to provide a comprehensive variety of mobile banking services, IMPS has laid the groundwork.
An IMPS transaction requires the participation of four significant parties in order to be successful:
Sender
Receiver
Banks
National Scale (NFS)
Usage of IMPS
Customers can make use of the IMPS service to do the following-
Funds should be transferred.
Payments are received
Make payments to merchants
Make use of mobile banking to do transactions.
Check the status of the Aadhaar seeding with the bank account.
Timings for the IMPS
IMPS can generally be performed at any time of day or night. There can be timing constraints associated with adding a new beneficiary in order to initiate a fresh funds transfer with some financial institutions. Some financial institutions place a time limit on the addition of beneficiaries for the purpose of IMPS transfers.
Transactional Capacity
The transaction limit for an IMPS transfer is typically set at Rs.2 lakh, although this might vary. Banks, on the other hand, are free to set their own upper limits for IMPS transactions. Additionally, for the first few days following the addition of a new beneficiary, the transaction limitations can be strict.
IMPS transactions are subject to a charge for each transaction that you complete. The charge is determined by the amount of money that is being moved. In addition, the goods and services tax (GST) of 18 percent is levied against consumers. The following table outlines the methodology for calculating transaction fees for IMPS-
How to make IMPS Money Transfer?
The basic method to be followed in order to make an IMPS transfer is outlined below.
Step 1– Select the payment channel via which you wish to send money and log in using your account credentials.
Step 2– Enter the recipient's MMID as well as their mobile phone number. Alternatives include entering the bank account number, along with the IFSC or Aadhaar number, if applicable.
Step 3- Enter the amount you wish to send into the account.
Step 4– Make a note of any additional information or the reason for the money transfer. In order to authenticate the transfer request, you must now enter your PIN.
Step 5–  The transfer will be successfully initiated. Once completed, an SMS will be sent to both the sender and the recipient to confirm the transaction.
Frequently Asked Questions
What happens if an IMPS transaction does not complete successfully?
Whether your IMPS transaction times out or fails, double-check to see if any funds have been deducted from your bank account as a result. If the money is not deducted from your account, you can wait a few minutes and try again with another transaction. When money is deducted from your account, check your account after two working days to see if the money has been refunded. The money that was deducted from your account would have been credited to your account.
What is the difference between NEFT and IMPS?
Despite the fact that NEFT and IMPS are both systems of interbank money transmission, they are distinct in their own ways from one another. In order to complete an NEFT transaction, you must do it during business hours. It is possible to initiate an NEFT transaction after business hours, however, the transaction will not be completed until the next business day. In the case of IMPS, on the other hand, a money transfer transaction can begin and finished at any time, regardless of the bank's business hours.
What is the difference between RTGS and IMPS?
RTGS is similar to NEFT in that it is a timed service, and both are used to transfer money. Inter-bank transfers can be initiated between the hours of 7 a.m. and 6 p.m., and between the hours of 7 a.m. and 7:45 p.m. for domestic transactions. Additionally, RTGS is only available for transactions worth Rs.2 lakh or more. In contrast, the maximum amount that can be transacted with an IMPS transaction is Rs.2 lakh, or the amount determined by the bank. There are no restrictions on when a user can conduct a transaction in terms of operating hours, however, a few requirements must be met in order for it to be completed.
How to complete an IMPS transaction?
When completing an IMPS transaction, you can pick from one of the following options-
Mobile Banking- You can use your bank's mobile app to complete an IMPS transaction if you have registered for mobile banking. After completing the registration process, you will be able to launch the app and transfer payments to another party.
Using Internet Banking- Sign up with your bank for the internet banking service so that you can log on to the bank's internet banking page and begin transferring funds.
ATM- If you are not enrolled in mobile banking or internet banking, you can make the money transfer by visiting the nearest ATM of your bank, which is usually located near the branch. An ATM, in addition to offering services such as monitoring the amount of the account and withdrawing money, also provides the ability to conduct an IMPS transaction.
Read Also Related Contents: