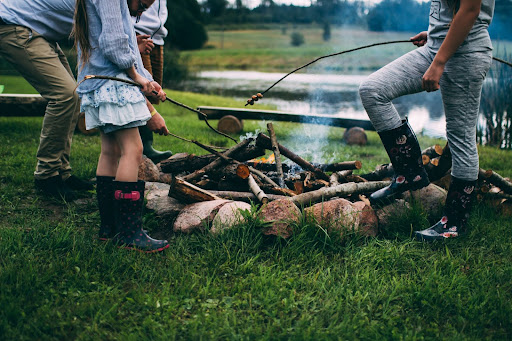 Photo by Daiga Ellaby on Unsplash
Time outdoors seems too wild to you because of the lack of basic amenities? Staying in a tent is associated not with romance, but with the inability to wash? However, you can relax in nature without losing the benefits of civilization. Thanks to contemporary technologies, you can stay at the campground and enjoy premium comfort!
This article overviews various types of camping, from the tents on the campgrounds to camping for cyclists.
The first type is a tent camp or campground. This is the simplest option which is based on pitching tents for 1 person in natural areas, where tourists spend most of their time.
The next type is hiking (backpacking, hiking). The main difference is that tourists are in constant motion, just staying overnight in the most convenient place. Such trips are organized trips without intermediaries. Tourists are constantly on the move, which gives the opportunity to get acquainted with the local settlement, with nature, as well as to visit more interesting places. The main feature is a backpack with a standard set of equipment
The third type is camping for those who are trying to "survive" (survival camping). The task of the tourist is to find food, to protect himself from the attack of predators, to find a way out of civilization.
The fourth type of camping is event camping, which involves a temporary tent camp that operates during some festivals, holidays, events, events.
The fifth type is similar to a tourist trip, called adventure camping. The main goal is an adventure. During the day the tourist travels by nature, at night he or she rests in a tent. It is important to have comfortable shoes and clothes, and good health.
The sixth type is camping for cyclists. This is a new but fast-growing type of outdoors. It involves using a bicycle and a light tent.
All these camping types have in common using a tent. This article overviews what essential items one should take for a solo trip.
Tent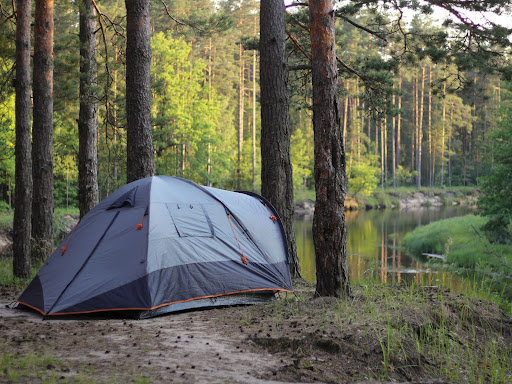 Photo by Ignat Kushanrev on Unsplash
There is a wide variety of shelters on the market. It can be either a spacious 4-season one-person tent, in which the backpack and inside tent accessories will fit or an ultra-light tent for solo travel. Your choice would depend on the season and the purpose of the camp. Each type has its advantages as a large internal volume provides greater comfort and less condensate. The vestibule, if any, can be used for cooking as well as for ventilation.
Ultralight tents weigh less than 1 kg. And this is their main feature.
Burners – there are a large number of burner models that run on different types of fuel
alcohol, gas, gasoline, firewood. Widespread gas infrared heaters can be used as an oven for cooking. In general, they are compact and lightweight. The peculiarity of the infrared heater is that it heats objects rather than air.
Sleeping bag
You can use sleeping bags of any form factor for camping, the main thing is that their temperature corresponds to the conditions in the area where you plan to go. For camping, you should pay attention to sleeping bags, which turn into a blanket. This feature will give them versatility, and if it is hot enough, you can cover it like a blanket.
Rug – a duo rug can be a good option for a camping format, especially if you have a double tent. A foam mat is also a good option, as it can be used to sit by the fire. Even if a spark gets on such a rug, it will not lose its functionality. If possible, you should take both inflatable and foamy, for complete comfort. If the tent is in the sun during the day, the inflatable mats should be slightly lowered during the day. As the air expands as it heats up, it can put more strain on the seams and partitions of inflatable and self-inflating mats. In the evening, the rug can be blown a little.
Light
When starting your adventure outdoors, you should not forget about lighting. Although daylight is long in summer, you may often need to light a separate area, find something in a tent, or just light a table for dinner.
Bag or backpack
The choice of the backpack depends on whether you plan to travel on your own or by car. If you still plan to move more, you should take a backpack. The only thing about camping is that you always want to take some nice things with you and surround yourself with more comfort than on a hike, so the amount of things is usually bigger. It is worth looking at options from 50 liters and more.
Bottom Line
The list of essentials for a cool camping experience includes a reliable tent, a comfortable sleeping bag, some source of light, and a sturdy backpack. Additionally, you should have a convenient set of shoes and outdoor clothes. Once you have your camping gear, you can head off to the campground you have chosen and enjoy your getaway.