Fix iPhone Stuck on Apple Logo Without Data Loss!-TunesKit iOS System Recovery
How to use TunesKit iOS System Recovery
Are you a mac or iPhone user? Are you having difficulties in recovering your system for various reasons? Maybe you want to fix iPhone stuck on Apple logo, or your mac device is having some problems like white screen, iOS update failure, iPhone boot loop, black screen and other minor issues that may affect your device. Many iOS users get stuck on how they can get their device working again once they are encountered some of the problems. They seek help from a source that takes advantage of them through extortion and even losing their device.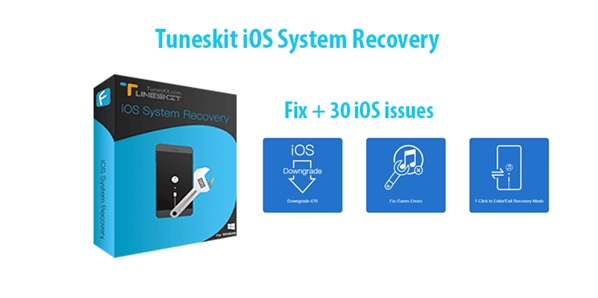 The good news to all iOS users is that you can always solve these problems alone at home, in an easy way and without the help of a technician. With TunesKit iOS System Recovery, you can solve all your iOS device problems in just a few steps. TunesKit iOS System Recovery is an intelligent iOS system that helps quickly get your iOS device back to normal without losing any of your data. To learn how to use the TunesKit iOS System Recovery, follow this article to the end, and you will be a pro in iOS.
Features of TunesKit iOS System Recovery
the following are some of the features that make TunesKit iOS System Recovery a darling to all iOS users;
The recovery mode is readily available to everyone, including the users who are not registered.
The TunesKit iOS System Recovery is user-friendly and allows the users to instantly enter and exit recovery mode with a click.
With this software, you can recover your corrupted iOS device in its initial operational state without loss of data or interruption with its regular program.
It does not require any technical skills to run because it is easy to use a process.
It supports all iOS devices, so there is no need to worry if you have problems with your iPhone or laptop or even your tvOS.
It has a customer care service that is always available all the time, 24/7.
It has a step-by-step configuration order; therefore, messing up is your choice.
How does TunesKit iOS System Recovery work
TunesKit program works by aiding you in recovering from serious difficulties with your iPhone. This is made possible even without worrying about the annoying service delays from technicians, not forgetting about losing your money due to the service bills. This software also helps you downgrade iOS to a previous one in the nick of time. Additionally, you will be able to troubleshoot your device for any error while backing up or restore it with iTunes.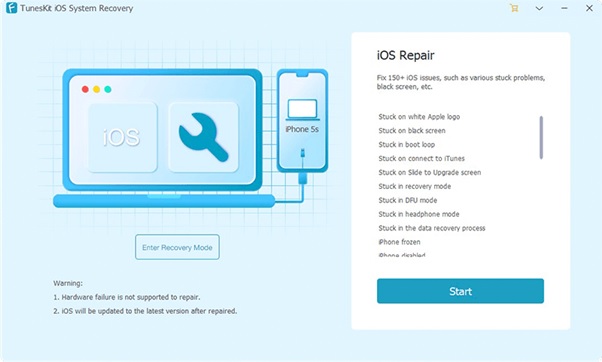 Two modes characterize TunesKit iOS System Recovery; this works depending on the intensity of your iOS device challenges. These two modes are;
Standard mode
Advanced Mode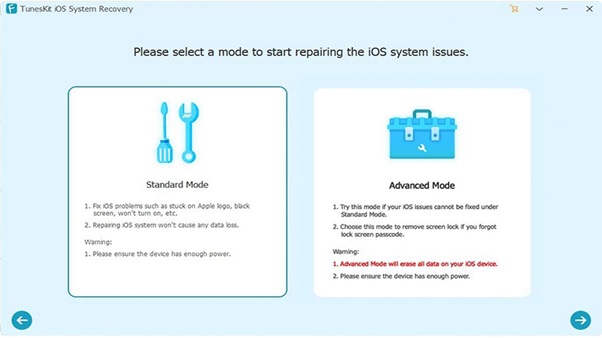 The standard model
As the name suggests, the standard mode is used when you want to fix the simple and common iOS problems on your device without losing any of your data. Some of the issues fixed with the standard model are;
iPhone stuck in the recovery mode
iPhone is frozen with a black screen
to use the standard mode, proceed as follows;
connect your iOS device to a PC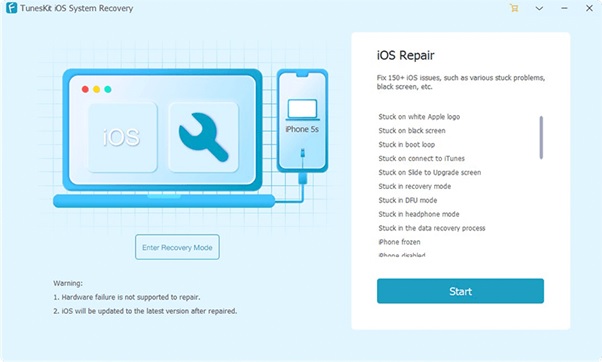 After launching the TunesKit iOS System Recovery software on your pc, use a USB cable to connect your troubled device to the Pc. The device will be detected. Click on the "start" icon to proceed to the next window. Click on the standard mode/ Advanced mode option followed by the "next" icon. Choose the type of device model you have connected to and follow the interface's instructions to put your device in DFU mode. Then click on " Next" to continue.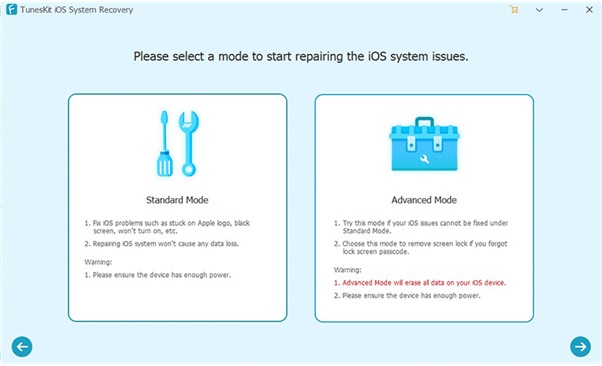 You might encounter a problem while putting your device into recovery mode through the manual way if it is broken. Simply click on the enter recovery mode button in the TunesKit interface to successful put your device in DFU mode.
Download the firmware package that matches your device requirements to help you with the recovery process.
With everything in place, you can now commence with your recovery process. Press the "repair" icon, and the device will be fixed within a few minutes. Always remember to keep your device connected throughout the entire process.
TunesKit iOS System Recovery through the Advanced Mode
Once you find that your issues cannot be fixed through the standards mode, kindly proceed to the advanced modes. This always allows you to solve all the complex issues affecting your device. The only red flag with the advanced mode is that it clears all the data saved on your device. Some of the complex problems solved through the advanced mode are;
Your iPhone is in a disabled state
Locked iPhone
To use the advanced option, follow the steps as in a standard, but this time chose the "advanced mode" option, and you will recover your device.
Final thought
TunesKit iOS System Recovery is one of the best repair tools available in the market that will see you get your device working again. To get the software, visit TunesKit 's official website and get to use this software for free.