Just because yours is a financial services company website, that doesn't mean that it has to be dull, boring, and lifeless.
But it also doesn't mean that it's amateurish, flippant and out of sync with the nature of your business.
Achieving that fine balance is what makes all the difference to how your website, brand, and business are viewed. It can also ultimately affect your reputation and revenues in the long run.
Today, having a website is no longer a fashionable fad. It is an essential element in your marketing suite. It serves as a touchpoint where the brand/business and customers can connect up.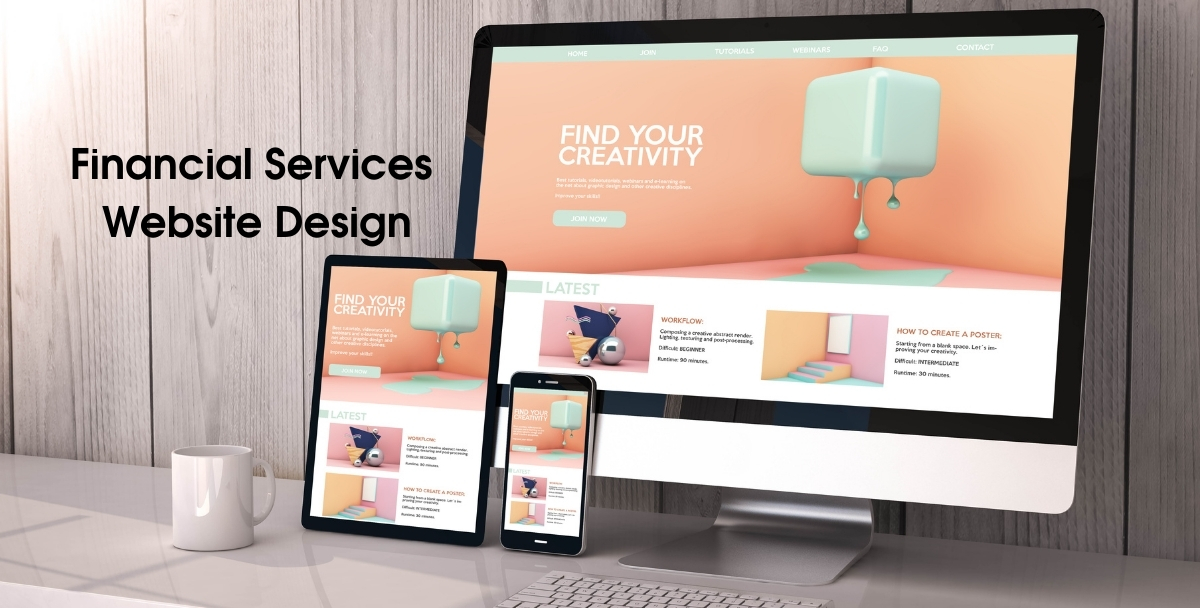 When clients or visitors want to know about your firm, get information about services offered, need specific know-how about a particular fund, or they'd like to understand what your team is like, your website provides all this and more.
The next logical step would be to transform the visitor into a revenue-generating client.
That's when you can say that your website has done its job.
The challenge lies in hiring the right website designer who has worked successfully on creating top-quality financial services websites, either as a freelancer or as part of a design team or firm.
Before we get to that, let's take a look at what the ideal financial services website should look and feel like.
Financial Services Website Must-Haves
Security: This is absolutely a top priority, given the nature of the information that would be shared on the site. Your financial services website should have secure logins, and state-of-the-art security features to prevent data breaches, hacking, and leaking of confidential data. Today, insecure sites may not load on some browsers, and that represents a bunch of missed opportunities.
An SSL certificate is a great investment that goes a long way in protecting your clients. You can add other features such as dedicated hosting, encryption, DDoS prevention, regular updates of CMS and plug-ins, intrusion detection/monitoring, encrypted back-ups, etc.
Visuals, images, icons: Stay away from annoying stock-images. Invest in bespoke photos and artwork that reflect your brand and marketing messages. Ensure that they're optimized correctly and don't slow your loading speeds down.
Clean and Lean: Keep the look neat and professional, without being heavy and tedious. This means easy, swift navigation and funnel through, non-intrusive animation/pop-ups, clear call to action, with a focus on UX and UI.
Quality Content: Financial services websites don't necessarily have to be over-stuffed with text. Ensure that the content is original, authoritative, fresh and reliable. Update the information regularly and ensure that your site becomes a go-to hub for the latest regulations, information, opinion pieces, helpful advice, etc.
Tech Intensive: Today, people seek information on the web via a variety of devices – smartphones, mobile phones, laptops, desktops, tablets, etc. Ensure that your website design is responsive. Since 2016, Google algorithms have culled websites that are not mobile responsive, because more than 50% of searches were conducted on mobile phones.
Common Mistakes To Avoid While Hiring A Website Designer
Not checking their Experience and Portfolio: While there are thousands of talented, tech-savvy, committed designers out there, it's a big mistake to think that all this translates to a great financial services website designer. Unless the designer has worked successfully on such projects before, you will end up wasting time, effort, and money to get them up to speed.
While going through their portfolio look for professional services website experience, neat and minimalist features, clear calls to action, and a memorable UX.
No Experience with SEO: While designers/developers could make great promises in their sales pitch when it comes to delivering results unless they have solid SEO experience, your website would be a white elephant. The site could tank in rankings and potential clients/visitors wouldn't be able to find you. That means you get stuck with a stagnant and diminishing pool of existing clients.
Not Familiar with Responsive Design: Today the lines between designer and developer are almost non-existent. Most designers are tech-savvy and build the tech into the design in the early stages. With Millenials forming the bulk of traffic on the net, it's important to stay in sync with their needs and preferences. Ensure that your website is geared for responsive design from the word go.
Template vs Custom-Built: While templates are a great option when you need to put a site together swiftly, they're at best a short-term solution. Your website could end up looking like a million others on the Net, without a clear USP and stand-out features. Ensure that your designer can build a customized site that incorporates your unique branding, services, and professional qualities.
Doesn't recognize the Value of Content: There are plenty of dull, uninteresting financial services stuffed with outdated, irrelevant content. Ensure that your designer understands the value of content in all its forms: text, voice, visual and interactive. In-your-face marketing is a no-no on financial services websites. Instead, offer visitors e-books, blogs, opinion pieces by industry authorities, explainers, value solutions, information, industry news, government data, etc. An efficient CMS system is essential. Here it's important to keep the content readable and accessible on all devices. Keep the number of pages low, and the navigation simple.
Not Familiar with Social Media Integration: Social media is the new age visiting card. Your website designer must be familiar with social media integration, linking to social media accounts, etc to build trust, authority, and connectedness.
Understands What's Totally Avoidable: Your website designer must understand the absolute no-no's that go into designing your financial services website. Loud music that comes on automatically, long delays in loading, pages not optimized for screen sizes, outdated information/expired pages, lack of interactive design, annoying pop-ups and banners, etc are some aspects of design that would be inappropriate in a professional financial services website, no matter how young and hip the team is.