CV full form : A curriculum vitae, often known as a CV, is a document that job seekers use to highlight their academic and professional accomplishments and qualifications. In order to apply for employment in areas where a person's specialized knowledge or experience is required, they must first complete an application. A curriculum vitae is often longer than a resume and must include all of the information that a recruiter needs to validate an applicant's abilities, experience, and educational qualifications.
If you are applying for jobs, scholarship programs, grant applications, or bursaries in many countries, your CV is generally the first document that a prospective employer would look at when screening applicants. 
what is the Full Form of CV?
The Full Form Of CV is Curriculum Vitae.
C= Curriculum
V= Vitae.
Below We Are Going To Explain The Meaning Of CV full form.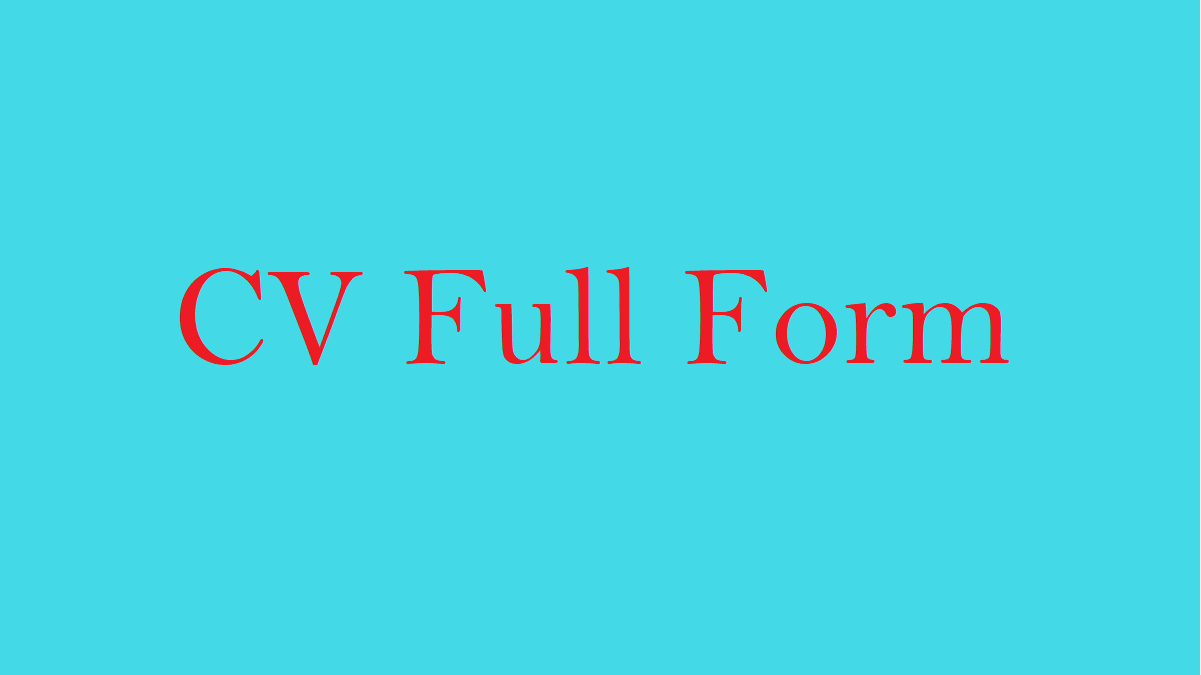 What to Include in Your Curriculum Vitae?
Information contained in the CV can differ from one candidate to another, as some candidates will opt to include only the information that is relevant to the position for which they are seeking, while others will include all of the information they have. In most cases, the following elements are included in your curriculum vitae:
Information about one's self
Start by writing your complete name and contact information at the beginning of the curriculum vitae (phone number, email address, registered postal address, and so on). Include information about yourself underneath your contact information so that others know who you are.
Gender, date of birth, government-issued identity number, marital status, and nationality are all examples of common personal information that will be collected. If your personal information is relevant to the position you are applying for, or if your employer has already requested it, you can opt to submit it in your application.
Education Qualification
Education information contains a list of the education programs you pursued as well as the years you went and the name of the school where you received your education. You should include information about the colleges, graduate schools, and post-graduate schools that you attended, the courses that you studied, and the year that you graduated from the program, as well as any other relevant information.
Some companies will additionally need you to list the grades and honors you have received at various levels of school in addition to your resume. Your educational background is used by employers to assess if your professional credentials fit the employment criteria of the position you are applying for, based on the information provided.
Previous work experience
It is necessary to mention recent job experience that is relevant to the position you are applying for in the work experience section. For each position you've previously had, include the name of your former employer (business), your precise responsibilities, and the length of time you were in that job.
Also, be sure to include a synopsis of the responsibilities you held at each firm, as well as any successes or honors received from the employer. Start with the most recent position you had and work your way down the list of applicable job experiences.
Honors and awards received
If you've received any honors or awards, whether at the academic level or during your prior job, please include them in this section. Dean's awards, honorary degrees, presidential honors, professional certificates or honors, and prizes awarded to an employer for outstanding performance are examples of awards that can be presented.
Knowledge and abilities
If you have particular talents that you have not included in the other areas of your curriculum vitae, you should include them in this part as well. Language skills, computer skills, driving skills, sophisticated software skills, and so on are examples of transferable abilities. They should be pertinent to the position for which you are seeking.
Publications and presentations 
If you have any academic or conference papers that have been published, you should include them in this area. You should include articles that you have written entirely on your own, papers that you have co-authored with other people, and articles to which you have contributed. Remember to include the title of the articles, the year in which they were published, and the names of any co-authors, if relevant.
Also include papers that have been presented at conferences and organizations, with the title of the paper, the name of the conference, and the date on which the paper was presented clearly indicated on the document. This part is required when applying for a post at an academic institution.
Membership in professional organizations 
It is possible that the prospective employer will need candidates to be members of certain professional organizations. Accounting, engineering, surveying, information technology, and other related jobs are among those that fall within this category of employment. List all of the professional organizations and associations that you are a member of, as well as the status of your membership in each.
What is the proper way to format a curriculum vitae?
When it comes to structuring your curriculum vitae, the following are some guidelines to keep in mind:
The length of the CV
It is important that the CV be neither too long nor too short. The length of your CV is determined by the amount of education and job experience you have accumulated over the course of your career. For entry-level employment, the CV length can range from one to two pages, while for positions requiring higher credentials and more experience, the CV length can range from one to ten pages.
The size of the font
Whenever you are creating your curriculum vitae, use a typeface that is simple to read, and make sure you use it throughout the paper. The font styles Arial, Calibri, Cambria, and Times New Roman are among those that are suggested. The font size should be anywhere between 10 and 12 points in size. The headers should be bolded to help them stand out from the rest of the material and to make the CV more logically arranged.
Correct use of language and spelling
Incorrect spelling, tense, or grammatical problems in your CV will only help to reduce your chances of being shortlisted for an interview. If you are sending your CV to a prospective employer, double-check it multiple times to ensure that there are no errors. Alternatively, you can ask a friend to look through your CV for any mistakes.