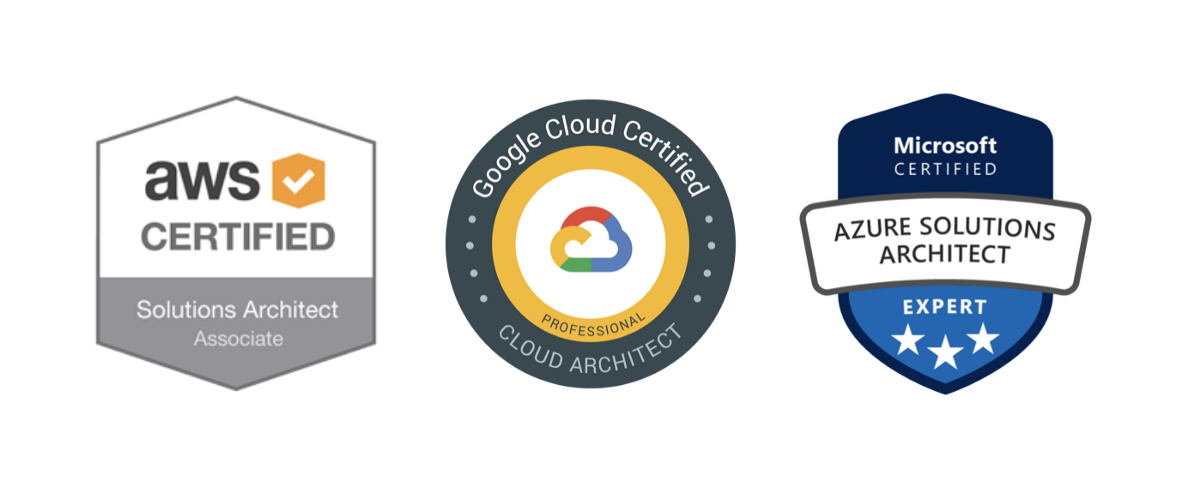 In the Information Technology industry, IT professionals find it increasingly valuable when they have knowledge about cloud technology. But the problem is that the abundance of this knowledge is not very high. As a result, IT professionals with cloud computing skills are rarely found in the IT field. However, lately, things are changing, and that too in a good way. Today, cloud service providers offer easy-to-enroll cloud architect certifications that help various IT professionals gain cloud computing skills.
Cloud computing, which uses the internet to store data or services rather than a hard drive on a computer's hard drive, is growing at a rapid pace. Cloud technology adoption has been accelerated by increased internet access, new technology, lower costs, and pandemic-driven digitization.
That's why cloud computing training is highly recommended for people who want to be able to work in the cloud. Let's have a look at the top 5 cloud architect certifications that can help in propelling your career as an aspiring or existing IT professional:
Microsoft Certified: Azure Fundamentals Cloud Certifications
Azure is one of the most popular cloud spaces in the cloud computing world. Also, it is a great platform to learn cloud computing. The AZ-900 exam is the foundational certification when it comes to acing Microsoft's Azure platform. The exam is open to both technical and non-technical backgrounds. This certification will get you up to speed with basic Azure knowledge. You can then go on to earn the Azure Developer Associate certifications and Azure Administrator Associate.
Amazon Web Services (AWS), Solutions Cloud Architect Certifications​​​​​​​​​​
AWS Solutions Architect – Associate certification is a multi-choice exam that measures your ability to use, manage, and deploy various services on AWS, the most popular cloud platform. This certification can help you qualify for similar jobs by proving your knowledge of the fundamental concepts of AWS cloud engineering.
Are you just starting with AWS? The certification is structured in such a way that candidates with less than a month of experience can also earn the AWS Certified Cloud Practitioner Certification. This certification will help them prepare for the AWS Solutions Architect – Associate Certification.
Google Associate Cloud Architect ​​​​​Certifications
To become a Google Associate Cloud Engineer, you will need to demonstrate competency in the fundamental aspects of using GoogleCloud. It includes configuring access and security and setting up cloud solutions.
Cloud Security Alliance – CCSK Cloud Architect Certifications
The Cloud Security Alliance is a neutral certification provider and issues the CCSK. The certification you receive can be used to apply the knowledge gained on other cloud platforms. The CCSK focuses only on cloud security basics. Other advanced certifications such as the CCSP (ISC.2) indicate a professional level in cloud security.
IBM Certified Solution Advisor – Cloud Architect Certifications
Although IBM cloud services have a smaller market share than others, they can still be used in industries that use IBM Cloud Platforms. The foundational certification for IBM Cloud is the IBM Certified Solution Advisor Cloud Foundation V2. This certification is helpful if you work in a company that designs solutions based on IBM Cloud or plans to do so in the future. In addition, there are many more advanced IBM cloud certifications available, such as the IBM Certified Application Developer Cloud Solutions v3.
Getting Started
Being a cloud professional in IT could mean you work in a highly demanded field with lucrative salaries. You can learn cloud basics by taking various cloud architect certifications.
IBM Introduction to Cloud Computing, Google Cloud Product Fundamentals, or AWS Fundamentals are some of the best cloud computing training courses if you are already familiar with IT concepts.