Business intelligence has become a mandatory practice for enterprises. It needs to be continuous and widespread to be able to really transform an enterprise digitally.  Let us look at some of the best practices to ensure the success of business intelligence in an enterprise. This list is curated on the basis of the experience and success that Intellicus has seen over the years with its enterprise BI projects.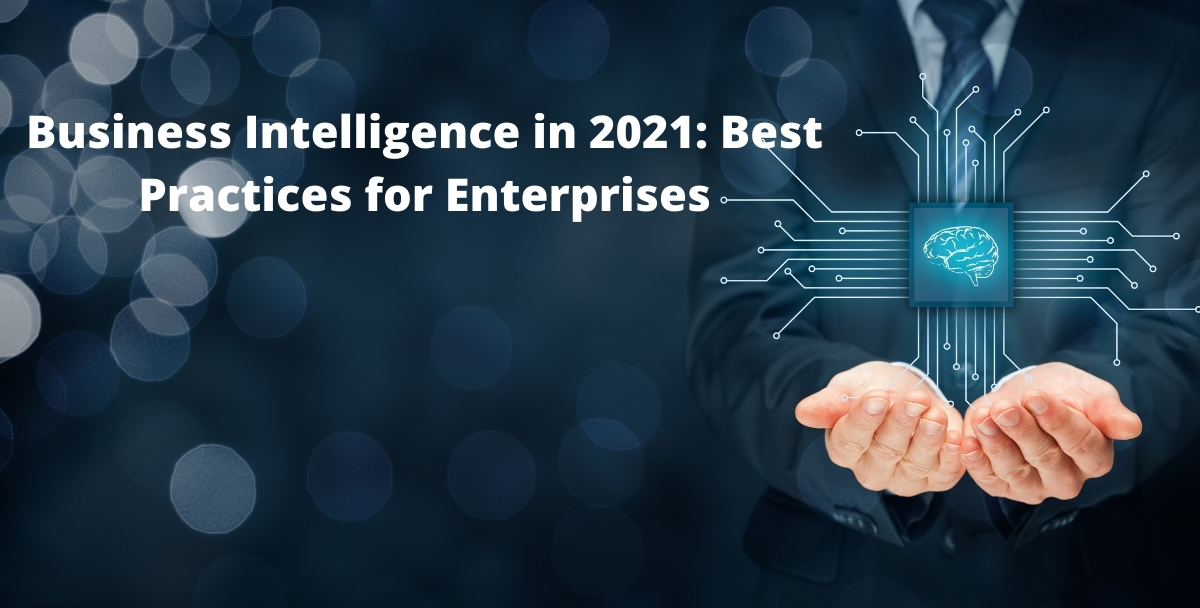 Best Practises
Buy in across the enterprise
One of the key elements in the success of a business intelligence how widely it is accepted and adopted in an enterprise at the ground level. Before rolling out a project, it is always suggested to take a buy in from all departments and users and prepare them for the change, before it actually comes.  For example, you must get the key departments like IT, data scientists, data engineering, etc, involved from a very initial stage to ensure seamless data governance and set up the right data workflows. This will ensure that there are no bottlenecks in the early stages of your business intelligence project and will expedite implementation.
Have the blueprint ready
Create an outline of the project scope and evaluate all requirements to create a comprehensive rollout strategy.  Set a benchmark for reporting requirements and the technologies needed to support the whole program, keeping the scalability in mind.
You should also start shortlisting the data sources and begin integration to capture data from all sources as needed. At this stage, also set KPIs for all departments and users as per their roles and requirements. Keep the objectives transparent and measurable. Define ownerships clearly and ensure that the blueprint covers all aspects from technology to roles to KPI, across the enterprise.
Set an agile data governance framework
Create agile data governance frameworks covering decision ownership, access rights, data bifurcation, and security enforcements in sight. Data governance may seem a tedious process but, in the long run it enables you to ensure full security, higher efficiency, lesser expense, and a streamlined data workflow system. It ensures that data is available for analysis when needed and expedites delivery of reports and thus, informed decision making.
Create Impactful Dashboards
While the backend systems need to be set up impeccably, you also must focus on creating dashboards that bring out the true value of your business intelligence project. Intellicus observed that many enterprise customers engage closely in defining the right KPIs for each dashboard, ensure that the dashboards are intuitive and interactive and at the same time give a 360-degree view to the user. While designing the dashboards keep ease of use, interactivity, clarity, and consistency in mind. Ensure that the dashboards convey a meaningful story with impact. It should be easy for users to understand and interpret the insights from a dashboard and translate them into actions at the earliest.
Stay agile
Data is forever changing and your data sources will be flooded with newer data every second. Ensure that your data workflows and the business intelligence project is agile and scalable to match the data volumes. For an enterprise to be truly data-driven, its business intelligence project must be able to quickly adapt to the new business dynamics quickly. Business processes and metrics keep changing as per customer requirements, the BI project should also keep up the pace with these changes to be able to provide the right insights to the users day on day.
Focus on real-time analytics
The primary opportunity in a business intelligence project is not of volume, but of speed. Enterprises need their data to be analyzed at the same or the greater speed at which it is created. Staying on top of current data and getting insights every minute is critical to the success of many enterprises.  This requirement has led many enterprises to focus on real-time analytics.  Real-time analytics is a critical area of a business intelligence project.  To ensure that maximum value is derived from its BI investments, it is imperative that enterprises focus on delivering real-time data insights to their users for the best results, regardless of their role and responsibility.
One of the most significant benefits of business intelligence is that it takes away the waiting time. Whether you are a C-level executive or a manager in the hierarchy, you do not have to wait to get metrics and insights on your everyday work. The insights are readily available, and this means that anyone can make informed decisions 24X7. With sub-second reporting available in most business intelligence tools, users can now read insights from the most current data, whenever they need.
Business intelligence is constantly evolving to meet the newer demands of the enterprises and to accommodate newer technology innovations.  With the advent of AI and machine learning capabilities, business intelligence is becoming more encompassing, more powerful, and more valuable to the enterprise who wish to keep pace with the new dynamics and advancements will need to remain agile and adapt BI technology innovations into their core business strategies. This adaption of business intelligence best practice is critical to gain a competitive edge, sustain it and at the same time acquire deeper insights into the nature of your enterprise.