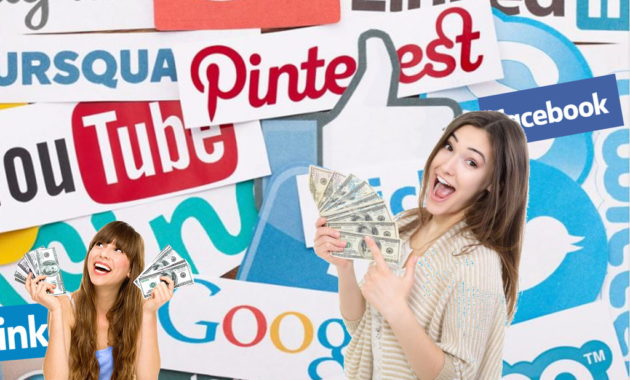 There are so many ways to make money these days that there has never been a better time to be an entrepreneur.
Using social media is a great way to make money in a number of ways. People these days trust others that are like them over celebrities which is how social media influencers are able to make money.
Not to say that the trust is abused, just that people are looking for advice to solve their problems either with a service or product by looking towards ordinary people. If you have a big social media following and people trust you, then you can certainly make quite a bit of money.
In this article, I will go over several of the ways that you can use your social media success to actually make a business out of it.
1 – Promote affiliate products
 There are so many products or services to promote on any topic that will pay you a commission if you direct people to the offer. In other words, if they make a purchase using your unique link then you get credit for the sale and receive a commission.
Take any topic you like and there will be a program. If you are into crypto currency then you can make a post about the cheapest way to buy Bitcoin, and anybody who reads it might decide for themselves to get some. Then when they buy you get a nice chunk of money. Multiply that according to the size of your audience and suddenly you can see just how much money you can make this way.
If you are a traveler, you can make a post about the best places to go and have a link to a hotel booking service. The possibilities are endless.
2 – Promote your own product 
Instead of sending traffic to somebody else's product and getting a commission, you can make even more by making your own product and keeping all of the money when somebody buys.
It doesn't even need to be a physical product, either but it can be. For instance, if you are running a social media page about cooking then you can write your own cookbook and when people buy it, they download it directly.
Though, if you do want to sell physical products then you can do that through your channel as well. You just need to find the right supplier that will create the product according to your specifications.
3 – Promote yourself 
Are you an expert in something and your social media profile is centered around that topic? Then you can sell your own services through your channel. If you are a finance expert and understand investing, then you can get hired by people that need your help. Like any online guru, you will need to have a good following and positive reviews, a great way to educate yourself on these principles is through legit Growthsilo reviews.
Or, you can even become a coach within that field and help people achieve their dreams to become an investor. The sky's the limit if you have an expertise in something. It doesn't even matter what it is.