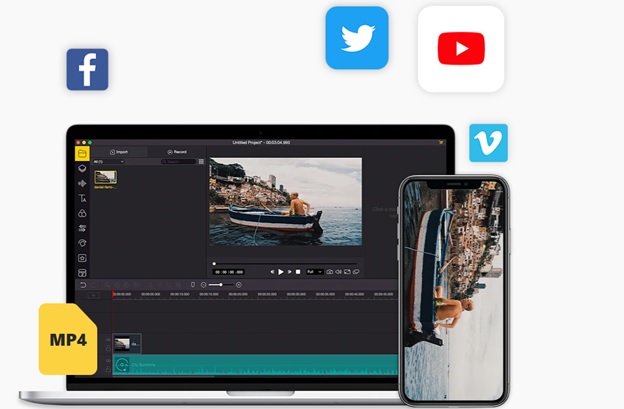 Many people are having trouble with video editions, but it always doesn't have to be that way. There are many video editing software, and it might be overwhelming to know which the best to settle on is. But with, the TunesKit AceMovi video editor is simple and easy to use. Anyone can generate a range of aesthetically pleasing videos without having much technical knowledge. Initially, video editing was a profession of its own, and it required experts who were experienced in it. But with TunesKit AceMovi, even the non-technical people may make professional-looking videos.
Also, TunesKit AceMovi has been there in the market for quite a long time and has built a good reputation, and many video editors have ranked it as the best and most trustworthy software. The software comes with many tools like titles, transitions, effects and filters that will help you make compelling videos. Also, it allows one to add graphics, video and audio components to their videos.
Features of TunesKit AceMovi Video Editor
This video editing software contains numerous features that make it the best video editing software. Below are some of the features.
It contains exceptional capabilities in video editing
The software has been built with splitting, rotating, speed adjustment and trimming features that facilitate making compelling videos. Also, it allows you to capture and record videos directly off the screen or upload the videos to be edited from your external storage media like the microSD cards.
Support numerous file formats
It is always critical to settle on a video editing software that only supports a specific video format. Therefore, the TunesKit AceMovi software comes with numerous formats of videos and thus one is not limited to the format that they should save their file. It can handle MKV, MPG, M4V, MP4 3GP and more file formats.
It allows real-time visualization
Despite the video production of the final video, the software allows one to track their progress as they make every little adjustment. You will be able to look at how your video looks and know what could be added to make it look outstanding.
How to edit videos with AceMovi video editor
1. First, you need to download AceMovi from their official website and then install it on your PC. After performing the installation procedure, launch it to start recording or editing your video.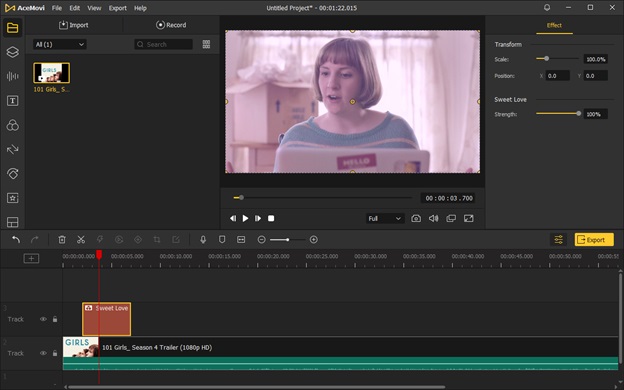 2. Here you will have to set up your main screen, and you can do this by adding timeline media and drug some effects by dragging and dropping them.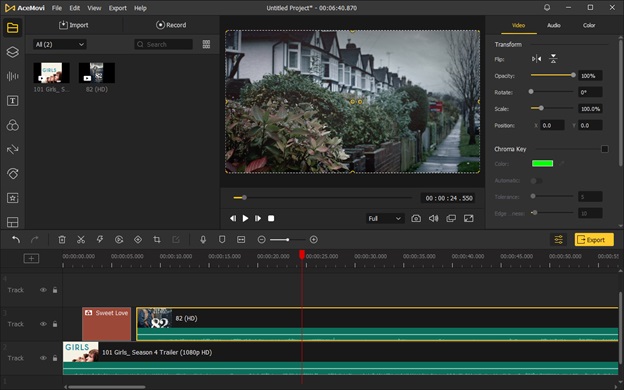 3. After customizing your video based on your demands, you can preview it to see if it meets your qualification before exporting it to your computer.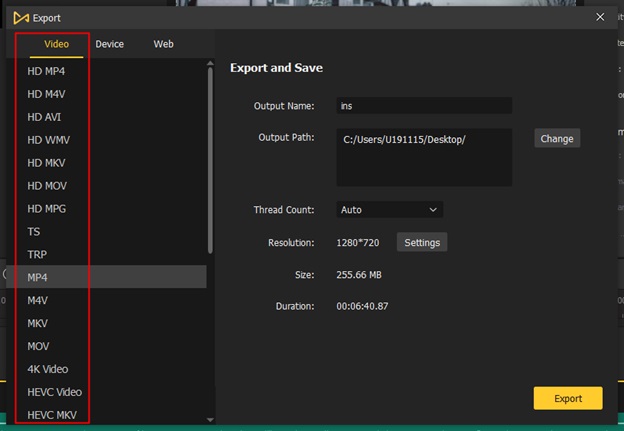 Therefore this is a straightforward procedure that even people who are not conversant with video editing software can use. You don't have to be a pro to use this software; it has a simple interface and is very user-friendly.
TunesKit AceMovi Technical Specifications
TunesKit AceMovi video editor is available in Windows and Mac operating systems. These are among the most commonly used operating system worldwide because of their simple user interface. Therefore, below are some of your PC's requirements before installing TunesKit AceMovi software.
Requirement for Mac operating system
The PC needs to be installed with a minimum of Mac OS X 10.8 to the most recent version.
Your device should contain at least a processing speed of 1GHz and above
Then you don't need a bigger RAM with a minimum of 256MB; you are good to go.
Your monitor should contain at least 1024*768 pixels or higher resolution.
Requirements for Windows operating system
You should have at least Windows XP, Vista, or 7 to the latest version installed on your PC
The computer needs to have at least 1GHz processing speed and above
You will need a RAM of at least 256MB
Your monitor's screen resolution should be at least 1024*768 pixels or higher.
Pros and Cons of TunesKit AceMovi video editor
Now that you have read about the software, you must become conversant with its pros and cons. This will help you make better decisions before considering the type of video editing software you will want to use.
Pros
It is very easy to use because it is user friendly
It is available in the two common operating systems that are globally used.
It has been built with auto-save features.
It comes with a free version to test the software before purchasing it.
It contains options to caption texts over videos.
Cons
It requires high resolution and wide screens since it might be difficult to read on small screens
The free version contains a watermark in all the videos.
Final Thought
The TunesKit AceMovi video editor allows all the basic editing operations on any video format. It allows one to conduct many activities like cropping, splitting, rotating and speed adjustment on any video format. Also, it has been designed with advanced video effects like filters, animations, and transitions. Therefore, it is recommended to the routine video editors who want to customize their videos in all formats and still get high-quality videos.