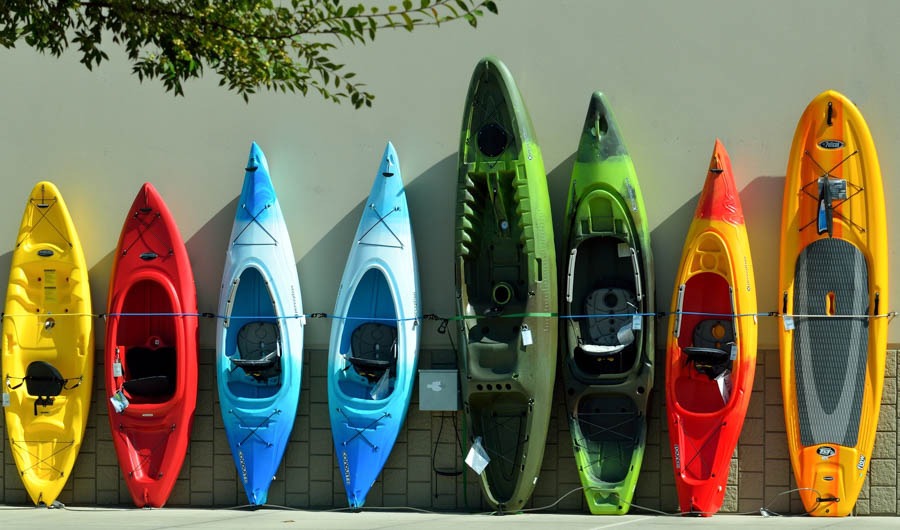 Kayaking is one of the loving activities of travelers whenever they go around visiting the sea and river water for fishing. It is an activity that includes exploring nature and enjoying it peacefully. In case you love being outdoors, then kayaking is the best thing to do. In case you have a kayak, you can go fishing by sitting in it. Most beginners at kayaking and fishing love to try such activities whenever they visit a place full of water like a river, sea, lake, etc. If you choose to do fishing at a place like a river or a sea, you would need a fishing kayak to provide you stability in the water and results in experiencing great fishing activity at the seawater.
There are various kayaks available in the boat market, and even you can get confused about available options because the variety is enormous. So if you are a newbie at fishing in a kayak, you must go through all the types and filter out the suitable kayak for you. On the other hand, suppose you have decided to buy a kayak for yourself. In that case, I recommend you go through online portals because they offer fishing kayaks for sale on their platforms, which means you can get a kayak at an affordable price and that can fulfill all your fishing requirements. If you are a beginner at fishing kayaks, then this article will be helpful for you, so keep reading till the end.
Standard terms to know:
Before looking for the best kayak for fishing, it is essential to know basic terms that people use for kayak products. Such terms can appear in the description of kayak products or the review section. However, if you are a beginner, you might be unaware of some important things, so let's check out the below.
It's a term used to describe the straightness of kayak glides without paddling or any steering. Kayaks that are flexible enough to turn usually lose the tracking.
Stability means how much a kayak is stable over the water, providing a balance to the paddler for fishing activity. Conversely, stability refers to how swiftly a kayak flips in the water. The more stable a kayak would be, the better experience it provides to the paddler while fishing.
It is an accessory that is available with various sit-in kayaks. It covers the boat's cockpit and results in sealing the edges of the cockpit to protect you from water splashes. Most beginners are not required to use it; they can only use it when they experience kayaking.
Above mentioned terms are commonly used in the case of kayaks. I hope you would have understood. If you want to buy the best kayak for yourself, consider reading the article until the end.
What should you look for in the best fishing kayaks for newbies?
Here we will discuss things you need to consider while buying the kayak, whether you are purchasing it online or offline. In my suggestion, you need to look at platforms that offer fishing kayaks for sale at a reasonable price. So, it's time to talk about things you need to consider while purchasing a fishing kayak without further delay.
Storage-
One of the main factors to look for in fishing boats in storage. Various paddlers spend many hours in fishing activities because it could be their way of earning. Moreover, if you are a traveler and trying to experience fishing in the kayaks, you need space to put your belongings.
The paddlers may need to put the tools and other essential resources for fishing in the kayak if they choose a kayak with good storage. However, if it is your daily routine to do fishing, you can keep your tools inside the boat, and it will save your efforts of bringing the tools from your home.
Weight and size-
Weight is another crucial factor while buying a kayak for fishing. You will do kayaking over the water, so to have a stable experience, weight should be considered while purchasing it.
Moreover, there could be a situation where no one is around then you need to push alone to park it at the bank of the river. Here, if your kayak is lightweight, it will be easy for you to push and pull it alone.
There could be a situation where you need to change your spot of fishing. In that situation, you would need to transport your kayak to another place where you will do fishing from now. If the fishing kayak's size is small, it could be easily transported through a vehicle.
However, bigger size fishing kayaks become trouble at the time of transportation. So consider the size and weight before buying the fishing kayaks or boat.
Comfort-
While looking for the fishing kayaks for sale then you must consider the comfort factor. There is not a specific model of the kayak which is best because it is all up to a person's need and choice; if a kayak will fulfill all your desired requirements, then it's the best one for you.
If you are a beginner at kayaking and purchase a fishing kayak, you should consider comfort.  Being comfortable is necessary because kayaking is an activity that relaxes your mind, and you enjoy your fishing side by side. So consider the comfort factor always.
Fishing kayaks need to provide a good seating facility for the paddlers. These boats also need to provide in and out options for a paddle if they want to swing after fishing.
Some paddlers have good height with long legs, so they need to look for a kayak to easily and comfortably sit. Nowadays, fishing kayaks come with adjustable seats and foot braces to provide comfort to the paddler. So above mentioned points and factors you should consider while buying a fishing kayak.