10 Foods to Stop Eating Immediately
2. Frozen meals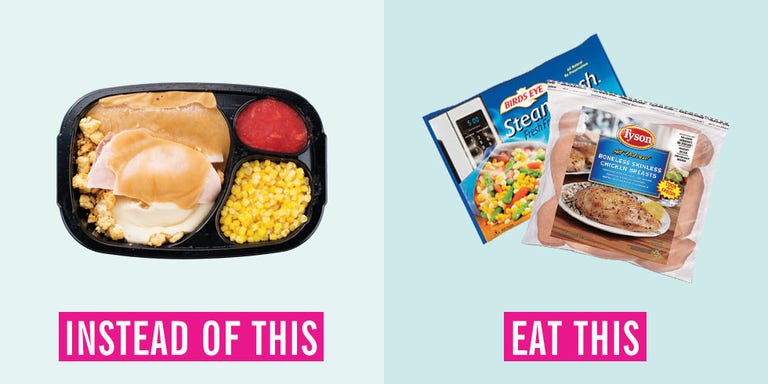 To make fresh ingredients last extra long in your freezer, food manufacturers often load frozen meals with sodium, a natural preservative, Harvest says. Sodium makes you retain water, which bloats you up — so you won't look and feel your best regardless of how much weight you want to lose.
Also: When food manufacturers try to squeeze a meal's worth of calories into a teeny-tiny box, every bite ends up containing lots of calories by design, Harvest adds. While large portions trick your brain into thinking your body is full, the measly portions found in freezer meals are inherently unsatisfying, even though they contain plenty of calories.
Eat This Instead: Pre-frozen leftovers. Just double up on ingredients the next time you cook dinner, then cool and toss leftovers in a microwave-safe container to keep in your freezer for one to six months depending on what you're cooking. Or stock your freezer with frozen veggies and your protein of choice (like chicken breast tenders, which cook faster than full breasts, or veggie burgers) to whip up a meal in the same amount of time it takes to cook a premade microwave dinner.